A positive start for Park Central Birmingham purchasers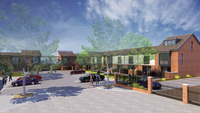 With today's homebuyers facing an average national house price of £162,435*, Crest Nicholson is urging potential purchasers to visit Park Central in Birmingham city centre.
Here, a collection of contemporary apartments is available from just £93,000 – or from a highly competitive £65,100 for those eligible to take advantage of the Government-backed HomeBuy Direct assistance scheme.
Bordered by Bath Row and Lee Bank Middleway, and just minutes from The Mailbox, Park Central is an award winning Crest Nicholson development which features an extensive choice of stylish new apartments and townhouses, set around eight acres of landscaped public parkland.
The recently released Lower Parkside phase at Park Central includes a range of one and two-bedroom apartments and highly exclusive two, three and four-bedroom freehold townhouses. Prices in this phase start from £93,000 for a one-bedroom apartment, with two-bedroom townhouses priced from £180,000. A limited number of one and two-bedroom apartments are also remaining in the popular Liberty building, priced from £94,000.
Susan Young, sales and marketing director for Crest Nicholson, explained how buying a new home at Park Central adds up for today's budget-conscious purchasers. Susan said: "There are many challenges facing homebuyers, with issues around affordability high on the agenda for those in the market for a new home. There is a widespread perception among many – particularly first time buyers – that a new city centre apartment is well out of their financial reach; however at Park Central purchasers are able to secure a property from well under the £100,000 mark.
"Apartment prices at Park Central start from well under the national average house price, which currently stands at £162,435 and, with the latest Halifax House Price Index also revealing a rise in recent mortgage approvals, the market is showing clear signs of increased stability. There is even more good news for first time buyers at Park Central, as a choice of assistance schemes is currently available for eligible purchasers, including the government-backed HomeBuy Direct and Crest Nicholson's EasyBuy.
"Many visitors to Park Central are also surprised by the deposit amount needed to purchase a new home at the development. There is an expectation that at least a 10 per cent deposit will be required, with buyers anticipating that they will have to save for years before they can even begin to consider homeownership. However with HomeBuy Direct and EasyBuy, purchasers only require a five per cent deposit, which could amount to just £3,255."
Eligible purchasers with a household income of less than £60,000 can take advantage of HomeBuy Direct at Park Central and secure an apartment from as little as £65,800. The assistance scheme sees the government and housebuilder cover up to 15 per cent each, or 30 per cent in total of the property price with a loan. This leaves the buyer with a more affordable mortgage for the remaining 65 per cent together with a five per cent deposit.
EasyBuy is a dedicated Crest Nicholson scheme under which purchasers have the opportunity to pay just 85 per cent of the price of their new home. This breaks down as a mortgage for 80 per cent and a five per cent deposit. The remaining 15 per cent share is covered by an equity loan to be paid back at a convenient time. This loan is interest free for the first five years, with a low interest rate fixed at just three per cent APR from the start of year six. The only requirement is that the equity loan is paid back within 10 years of the original completion date; or if the homeowner sells the property, the 15 per cent must be repaid at the property's current open market value.
For more information on Park Central, visit the marketing suite, which is open daily from 10am to 5pm and is located at Park Central, 2 Mason Way, Birmingham B15 2EY, or log on to: parkcentral.co.uk
*Halifax House Price Index January 2011