Toyota Yaris named Green Car of the Year 2008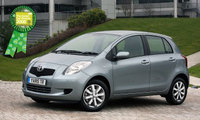 The Toyota Yaris has been named Green Car of the Year 2008 by the Environmental Transport Association (ETA). The announcement comes ahead of the start of Green Transport Week (14 – 22 June).
The ETA developed their annual Green Car Buyer's Guide after reviewing more than 1300 vehicles currently on sale in the UK. Research for the guide focused on power, emissions, fuel efficiency and even noise levels of the vehicles.
In addition to the Yaris being named the overall winner, three other Toyota models were in the ETA's top ten with the Prius (3rd), Aygo (6th) and Auris (9th) being identified as some of the greenest vehicles available in the UK.
The Toyota RAV4 was named as the greenest vehicle in the Off Road category and the Toyota Aygo was top in the City category.
The second-generation Toyota Yaris went on sale in 2006 offering improved quality, accommodation, performance and dynamic ability. As well as being the overall winner of the ETA's Green Car of the Year 2008 it has been named the top green vehicle in the Supermini category.
The Yaris has a strong, dynamic look and is exceptionally aerodynamically efficient with a Cd of 0.30 – among the best in its class – helping fuel economy and reducing noise disturbance when on the move.
Yaris is available in three and five-door body styles with a choice of four engines. With both manual and MultiMode transmissions, the 1.4-litre D-4D 90 can return 62.8mpg in combined cycle driving, with further ownership cost benefits from CO2 emissions of 119g/km, which place the vehicle in band B for Vehicle Excise Duty.