Turn back time with SQOOM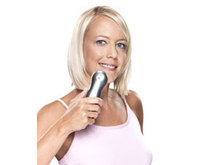 Once in a lifetime a product comes along that is set to revolutionise our beauty routine and enhance our looks forever - SQOOM is this product. By investing just a few minutes a day, the makers of SQOOM promise that our skin will soon look brighter, tighter and more radiant than it has in years!
SQOOM, the innovative German skin treatment system is coming to the UK and will be launched exclusively in Harrods in Spring 2011.
SQOOM uses a handheld sonic device to deliver specially developed and highly effective gels deep into the skin. The device uses a mix of ultrasound and ionisation to massage the epidermis (cuticle) and the dermis (corium) of the skin in order to activate muscular tissue and trigger regeneration and elasticity.
Commenting on SQOOM, Helmut Schick says: "It is the unique combination of our patented 'Synchron Technology' and the active ingredients in our gels that help to penetrate the outer layers of the skin and fix any damaged areas. The skin's appearance improves in a matter of weeks and with long term usage, wrinkles and other signs of age are significantly diminished."
Three SQOOM antiAge gels: 'xcential hyaGel', 'DeSpot gel' and 'cleanser gel' are available alongside a range of SQOOM med gels to treat specific skin problems. These gels are applied to the skin as part of a specially designed 12 minute regime.
The SQOOM products are being sold in Harrods from 1 March 2011. It is available in silver or black and costs £549 including two xcential hyaGel products. A luxury device decorated with Swarovski crystals is also available exclusively at Harrods for £1090 including two xcential hyaGel products. Additional gels can be purchased in the store: DeSpot Gel and xcential hyaGel are priced at £79 each and cleanserGel is £19.
The SQOOM device guides the user through six beauty programmes for the skin; cleansing, massage, nutrition, lifting, whitening and wrinkle care. SQOOM cleanserGel prepares the skin for the beauty programme. It contains chamomile extract and aloe vera to give a mild tightening effect. The SQOOM xcential hyaGel is an anti-aging gel. This penetrates the critical skin layers, filling any hollow spaces, refreshing the skin and replenishing its natural hyaluronic acid levels. The SQOOM DeSpot gel based on genistein and sulforaphane is designed for the deep treatment of age spots.