Finland's Midnight Sun Film Festival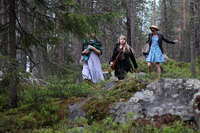 Finland's Midnight Sun Film Festival is a five day and five night nonstop celebration of the best motion pictures from around the globe.
Set against the extraordinary backdrop of Central Lapland's white nights, the festival gives visitors all the more reason to experience summertime in Finland's North.
Every year in June, the midnight Sun Film Festival draws thousands of visitors from far and wide to the village of Sodankylä in the heart of Finnish Lapland.
Founded in 1986 by a group of Finnish filmmakers including the famed Kaurismäki brothers, the annual event has hosted such glittering personas of cinema as Terry Gilliam, Jim Jarmusch, Milos Forman and Francis Ford Coppola. The festival takes place about 120 km from the Arctic Circle, an area best known for some of Finland's most outstanding natural attractions.
The unique backdrop is just part of what makes the festival so special. Free of formality, the organisers pride themselves on the festivities' relaxed and unpretentious ambiance. They call it the spirit of Sodankylä - an informal and welcoming atmosphere in which the most celebrated directors rub shoulders with fledgling ones, amongst an audience comprised of international visitors and locals.
The festival is non-competitive and features are loosely categorised into three types: films by renowned directors, gems of new cinema and silent movies shown to the accompaniment of live music.
Films are screened at three venues 24 hours a day, but as the sun shines as brightly at 4 a.m. as it does at 4 p.m, it's easy to lose track of time! Highlights of the week include festival director Peter von Bagh's morning discussions with the main guests.
This year, the festival takes place from June 15th to 19th. Guests can travel to Rovaniemi by train or plane and then continue for an hour and a half by car, enjoying Lapland's distinctive scenery. All manner of lodgings are available, from camping grounds and caravan parks to hotels and well-equipped cabins. For the festival's recommendations on transportation and accommodation, visit: msfilmfestival.fi
Once guests have had their fill of culture, they can indulge their love of nature. The most important centre of tourism in Sodankylä is Luosto, a protected area known for its majestic forests of ancient pines, some of which date back for four centuries. Activities include hiking to the amethyst mine at Pyhä-Luosto National Park, canoeing, fishing, cycling and swimming.
Of particular note for hikers is the Urho Kekkonen National Park, a 2,550 sq. km. area that is partly covered by the Sodankylä municipality. There are marked trails for the inexperienced hikers, as well as long and demanding hikes in the park's wilderness zones for seasoned professionals.
For more information on travel in Finland, see: visitfinland.com/uk