Vampire awakening at Hilton Birmingham Metropole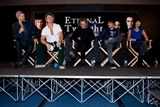 Hundreds of people are expected to descend on Hilton Birmingham Metropole, to meet with stars of the Twilight films, discuss the storylines and mingle, as the hotel hosts the bi-annual Twilight convention, taking place from 18 – 20 February 2011.
Guests are expected to travel from all over the world to get their photographs taken with film stars and peruse a collection of costumes from the films. This is the third time Hilton Birmingham Metropole has hosted the Twilight convention and last year, fans travelled from as far afield as Japan and Australia.
Guests will have the chance to get up close and personal with vampires and werewolves from the Twilight Saga cast including Daniel Cudmore who plays Volturi member Felix, and Jodelle Ferland who plays newborn Bree Tanner. On the side of the wolves there is Alex Meraz, who plays Paul, and finally on behalf of the lovable humans we welcome Michael Welch, who is Bella's school friend Mike Newton.
Patrick Stapleton, general manager of Hilton Birmingham Metropole, said, "Last year's events certainly didn't disappoint as fans had the chance to dress up and party with the stars at three themed evening receptions, and this year's convention promises to be just as exciting."
"As one of the few hotels in the country to be able to host such a large scale event we look forward to playing host to many more of these conventions in the future."
Mark Woollard, a director of Massive Events, the company responsible for organising the event, said, "Like the books and films, this has become a must-visit event for any die-hard fan, and visitors are in for a great weekend!"
Further details on the Twilight convention can be found at: massiveevents.co.uk
For further information about the hotel visit: birminghammetropole.com