UK ready to take a longer look at the Audi A8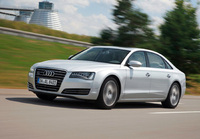 Audi has gone to even greater lengths to cocoon A8 passengers in absolute comfort in long wheelbase versions of the lightweight aluminium-bodied luxury saloon, the first examples of which have just reached the UK. Available from £60,010 OTR, the five-strong A8 L range incorporates an additional 130mm of wheelbase and body length to provide even more exceptional passenger accommodation. It is also further refined by a 6.3-litre, twelve cylinder W12 flagship model that is exclusive to the long wheelbase line-up.
Like the 'standard wheelbase' A8, the lengthened luxury saloon is crafted predominantly from aluminium in the interest of efficiency, comfort and driving agility. This approach reduces weight by around 40 per cent compared with an all-steel equivalent, and provides the very best operating conditions for the five engines that power the range - the 3.0-litre TDI (250PS), the 4.2-litre TDI (350PS), the supercharged 3.0-litre TFSI (290PS), the 4.2-litre FSI (372PS) and the heavily reworked W12. This remarkably refined twelve cylinder powerhouse has been bored out from 6.0-litres to 6.3-litres, and is now bolstered by FSI direct petrol injection for improved economy and emissions control. Maximum power has increased by 50PS over the previous version to 500PS, and the 45Nm higher torque peak of 625Nm arrives at 3,250 rpm.
As a result, the A8 L W12 can power to 62mph in just 4.7 seconds, and cruise serenely, where conditions allow, at a governed top speed of 155mph. And with the help of FSI technology, fuel economy belies these figures, with up to 22.8mpg achievable according to the combined cycle test – an improvement of around 9 per cent over the outgoing model which results in CO2 output of 290g/km.
Thanks to its advanced adaptive air springs, lightweight suspension and latest generation quattro all-wheel-drive, the long-wheelbase Audi A8 manages to combine the polished ride refinement expected of a luxury car with handling poise and agility that would normally characterize performance saloons from one or two classes below.
The full extra length of the A8 L benefits rear-seat passengers, who are able to enter even more easily through wider doors which, in the W12 version, feature power assisted closure. Rear passenger comfort is also further improved by standard seat heating, an upgraded climate control system which enables precise temperature modulation in the two rear 'zones' and electrically operated rear window and side window blinds. In the W12, comfort is taken to even greater extremes by replacing the standard rear seat arrangement with two individual sculpted rear seats which can be heated and feature fore/aft adjustable bases and angle adjustable backrests.
Online services
Well-being in the W12 is also further enhanced by double glazing and even more extensive use of Fine Nappa leather taking in everything from the glove compartment lid to the area surrounding the MMI controls. Technology plays a no less important role, as expected in a key exponent of Vorsprung durch Technik. All-LED headlights feature as standard in the W12, as do features including a BOSE audio system linked to a hard drive-based 'jukebox' capable of holding up to 8,000 songs, the MMI Touch fingertip navigation and telephone data entry system and a suite of sophisticated online services.
When a Bluetooth-capable mobile phone with SIM access profile is present, weather information and Google Earth images can be beamed via the car's internal UMTS module to the Multi Media Interface (MMI) and its navigation unit. Through its wireless local area network (WLAN) link the car also doubles as a wi-fi hotspot, allowing passengers to connect up to six computers to the internet.