Stand up, up and away for Red Nose Day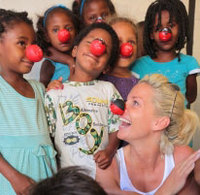 British Airways is attempting to set a new Guinness World Records title for the 'Highest Stand-Up Comedy Gig in the World' on Saturday 12 March, in support of this year's Red Nose Day.
In what sounds like the making of a comedy gag – an Irish man, an English man and a Northerner, otherwise known as Dara O'Briain, Jack Whitehall and Jon Richardson will be taking to the skies and performing a special stand-up gig.
The event is being held to raise money for Red Nose Day (Friday 18 March), as part of British Airways' partnership with Comic Relief called ' Flying Start', which aims to transform the lives of vulnerable and disadvantaged children in the UK and around the world.
Comedian Dara O'Briain said: "'I've performed in some unusual places, but never at 35,000 ft! I'm really excited to be involved in this unique event and raise money for Comic Relief."
The record-breaking attempt will be hosted on a dedicated British Airways A321 aircraft from London Terminal 5, and will fly over the UK. Lasting two and a half hours the lucky 180 guests on board will be treated to champagne and refreshments in the lounges and in-flight.
To be in with a chance of winning one of 75 pairs of tickets, comedy fans can enter the competition by texting* 'Fly1' to 70300, or at facebook.com/britishairways, where a full list of terms and conditions can be found.
Since the start of the partnership last June, British Airways has raised in excess of half a million pounds on behalf of Flying Start, and is the only year-round partner for Comic Relief.
British Airways is also undertaking a number of other initiatives to raise awareness and money for Flying Start. The airline recently hosted a trip to visit Comic Relief funded projects in Cape Town, joined by British Airways chief executive Keith Williams and long term Comic Relief supporter and Girls Aloud star Sarah Harding.
Project visits included mothers2mothers – a mentoring program offering comprehensive support for HIV-positive pregnant women and new mothers, and Grassroots Soccer – which uses the power of football to educate, inspire and empower communities to stop the spread of HIV.
Speaking of her visit Sarah Harding said: "I've supported Comic Relief for many years, so when the opportunity came up to visit a project with British Airways I was keen to go, but having never visited Cape Town or a township before, I didn't know what to expect.
"However, I found myself meeting some exceptional people despite the unimaginable circumstances they face. It was a privilege to witness the good work that Flying Start supports and came away feeling uplifted, inspired and keen to do more."
British Airways' chief executive, Keith Williams, said: "Having recently seen first-hand where the money goes, I am more enthusiastic than ever about Flying Start. The comedy gig in the sky is just one of several fundraising initiatives we're involved in – and we hope it raises smiles and money at the same time."
Customers can get involved by donating money on board flights, as well as online at: ba.com/flyingstart
They can also look out for flying red noses, with several aircraft donning the iconic red nose in March, to celebrate Red Nose Day.
* Text entry to the draw costs 50p, plus your standard network rate. A £3 donation will be deducted unless you choose to opt out (conditions apply). To enter or donate online, please visit facebook.com/britishairways.