Lexus LS wins Best Luxury Car in Fleet World Honours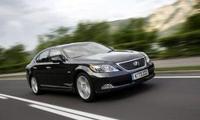 Lexus LS has won the award for Best Luxury Car in the 2007 Fleet World Honours. The trophy was presented at a special ceremony held at the Royal Automobile Club, Pall Mall on Thursday 17th May.
The Fleet World Honours are presented annually to those motor manufacturers and service companies who have, in the opinion of the judges, achieved the highest possible level of excellence in their sector. The judging panel is chaired by industry professional, George Emmerson, who has managed fleets at IBM, NHBC and Black Horse Agencies. Members of the judging panel include Ken Rogers, John Kendall, Natalie Wallis and Ross Durkin from Fleet World's editorial team, Alan Cole of Glass's Guide and fleet manager Jackie Pomfrett. Residual value, maintenance cost and reliability data is also provided by ALD Automotive, Hitachi Capital Vehicle Solutions and ING Car Lease.
Commenting on the award, Chairman of Judges George Emmerson said: 'First and foremost any candidate for the best luxury car must be impressive and impressive is a word that perfectly sums up why the judges awarded this sector to the Lexus LS. Everything about this car oozes quality – the design, the ride and the overall excellence – everything about this car. It looks luxurious and is indeed worthy of the word – luxurious.'
Fleet World editor Ken Rogers commented: 'This is a particularly difficult category to judge – partly because "luxury" is such a subjective thing to assess. The Lexus LS stands above its very worthy – primarily German - segment-competitors simply because it is such a quality product, manufactured to the highest standards in the industry. Once the new kid-on-the-block, Lexus no longer has to prove anything. The products speak for themselves.'
Alan Cole of Glass's Guide added: 'With an enormously strong reputation for quality and dependability the merits of the LS have been a well kept secret. Eventually, however, the continual accolades of the J.D. Power survey, where the brand has always done well, are beginning to pay off. The relatively low supply of used examples coupled with growing demand has led to residual value stability making it a favourite with fleet operators.'
Andy Simpson, Manager National Corporate & Remarketing for Lexus (GB) said, "We are delighted to be receiving this award which confirms not only the build quality of Lexus but also as an increasingly popular choice in the corporate Market."