First time buyer flies nest to affordable home in Corby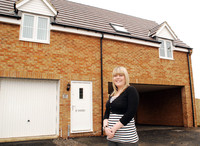 Diane Dickson is enjoying her new found freedom having flown the nest to an affordable home of her own near Corby.
Diane knew immediately that she had found the home of her dreams when she visited Lagan Homes at Long Meadow Walk, Little Stanion.
"I was 26 and still living at home with my dad and brother and thought it was time I moved into a home of my own. I went into an estate agent in town and they told me about HomeBuy Direct and that there were homes available under the scheme from Lagan Homes," Diane explained.
"It all happened very fast – I bought the second property I looked at. While some people look at dozens of homes before making a decision, I had a really good feeling as soon as I went in and didn't want to look at anywhere else."
Homes at Long Meadow enjoy all the energy efficient, easy maintenance benefits of being brand new, as well as featuring well-equipped kitchens and stylish bathroom suites and fittings, all finished to Lagan's high quality standards.
Diane is now settled in her two-bedroom detached 'coach house' apartment.
"I have rented with friends in the past before but knew in the back of my head that it was a waste of money. Thanks to HomeBuy Direct I now own my own home and at £322 a month my mortgage repayments are so much cheaper than renting would be," Diane added.
"I found the whole process really easy as Lagan Homes, my mortgage adviser and the HomeBuy agent did all the hard work. All I had to do was sign the forms and supply my pay slips."
HomeBuy Direct allowed Diane to take out an equity loan for 30% of the price of her new home, reducing her initial outlay significantly.
Government funding for the scheme is now only available for house purchases which can be legally completed by March 31st. But the competitive price of the properties at Long Meadow Walk means it's still an affordable option for first time buyers.
Current availability includes a choice of two and four-bedroom homes, with prices from just £109,950. A new phase of coach house apartments, similar to Diane's, will soon be released for sale.
Sue Blackman, sales director of Lagan Homes, says: "We're committed to providing quality homes at affordable prices, but that doesn't mean our customers have to compromise on style."
The new community of Little Stanion is situated alongside the A43 to the south east of Corby and includes meadows, ponds, playing fields and village greens, plus plans for a new primary school and village shops.
Visit the sales office and show home for more information about the properties available at Long Meadow Walk.