Suzuki Swift S-Concept at the Geneva Motor Show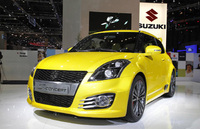 At this year's Geneva Motor Show, which opened to the media on March 1, Suzuki unveiled the Swift S-CONCEPT model. This exciting Concept is in line with Suzuki's brand philosophy of delivering excitement. Its overall development concept was to create a stylish sport compact with premium performance.
The design of Swift S-CONCEPT follows the theme of "more sporty and exciting" and reflected by its stylish appearance with bold, accentuated bodywork design and rear roof spoiler.
The Swift S-CONCEPT embodies the concept of a premium sport compact with uncompromised performance. The body is 30mm lower and 60mm wider than that of the standard Swift and has such a strong visual presence that it doesn't seem as compact as it actually is. Dynamic-looking front and rear bumpers and a big rear spoiler evoke high levels of acceleration and power and 18-inch wheels give a sense of solidity and stability. The headlamps and rear combination lamps have exclusive designs with high-tech accents.

Suzuki's sporty DNA is reflected in a Unique Lightning Pearl Yellow body which communicates intensity and depth and excitement - one of Suzuki's core values. The paint finish has a high lustre that looks different from varying angles which portrays dynamism and speed and the bespoke yellow, black, and dark-grey metallic colour scheme for both the exterior and interior were inspired by an athlete's running shoes.
For the interior, the steering wheel and instrument cluster have exclusive designs with Recaro Sport styled seats in the front, parts of the centre console are made of carbon fibre, which communicate a premium identity.