'Keep Calm & Carry On' at Saloufest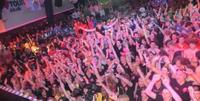 It's time to shake off those winter blues as the highlight of every university sports team's year is about to take place! English and Irish university students will be heading to Salou on the Costa Dorada in Spain for the biggest & best university sports festival available.
Taking place over a two week period in April, Saloufest is the quality benchmark for the university sports tour experience. During the 2 day competition, highly competitive university teams will vie for much coveted prizes in sporting disciplines including: badminton, basketball, beach cricket, beach flag football, beach rugby, bowling, boxing, cheerleading, dance, hockey, lacrosse, football, martial arts, netball, pool, rugby, rugby league, tennis, ultimate frisbee, volleyball and water polo taking place in a multitude of venues across the region.
At the core of the 'the festival for every student', is a celebration of sport as well as a host of entertainment including live bands, DJ's and unique student experiences.
The Pacha party is back and the ILT Flame Girls are limbered up for the show. The World Record attempting 'Where's Wally' fancy dress theme has been launched, imagine thousands of students dressed in Wally's distinctive red-and-white striped shirt, bobble hat, and glasses in the crowd. As well as the spirited competition on the field there is time for the students to explore the Tarragona region and to enjoy optional excursions to the vibrant city of Barcelona, a cruise on the Med and a trip to the fun filled PortAventura theme park.
Part of the allure this year is the inclusion of some of the UK's biggest DJ's who are set to literally rock Salou to it's roots! Bringing his very own brand of 'Jump up Rock n Rave' (which is easier said than done…) will be Radio 1 regular Kissy Sell Out. Famed for his high energy live performances and sporting a haircut so sharp it's a surprise he doesn't cut himself. This is a show not to be missed…so get involved in the Kissy Club. Returning from yet another sell out season in Ibiza will be the 'Don' of UK dance music Judge Jules. With Judgement Sunday being once again a roadblock event in San Antonio the Judge ain't budging and Salou is set to quiver in front of such DJ royalty.
When: 9th - 15th April and 16th - 22nd April
Visit: saloufest.info
As part of an on-going commitment to promoting safe and responsible touring an innovative campaign has been launched to educate students attending the festival about the effect their behaviour has when they are representing their club and university abroad. The campaign 'Keep Calm and Carry On' provides students with information to make informed decisions whilst representing their country in Spain.
Working closely with Drinkaware, P&O Ferries, Endsleigh Insurance, Taragonna Tourism and the Port of Dover Police, this ground-breaking initiative promotes an acceptable behaviour charter as well as guidelines on responsible drinking and looking after team-mates. As part of this initiative we have joined forces to provide tips and advice for students and help university teams combat excessive alcohol consumption by providing information about the effects of alcohol on their lives and lifestyles. The campaign includes information on considering and respecting the locals, being proud of the university they represent and being an ambassador for their club and country.
Sam Seward, MD of Ilovetour.co.uk, said; "We are a country of explorers, travellers and sporting champions! Students are seen as our best and brightest hopes of the future. They enjoy the competitive nature of sport by day and let off steam at parties by night – our message to students is above all KEEP CALM, stay in control, know your limits, play hard and party sensibly."
Seward continues, "It is imperative we all work together to help students form a responsible attitude to alcohol whilst having fun. Expanding the reach of 'Keep Calm and Carry On' campaign will mean more students can enjoy fun on and off the field."