Subaru UK - Pro-R to enter UK Time Attack car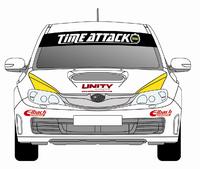 Pro-R, the official parts and accessory range of Subaru UK has announced that it will be entering the 2011 Time Attack Championship in a car prepared by Crossroads Garage and piloted by Dealer Principal, Jon Mathers. As recent 'Dealer of the Year' winners, Crossroads are already well known to many Subaru enthusiasts.
The move sees the experienced Mathers taking to the track in Time attack's 'Club Pro' class, in a fully road-legal Subaru WRX Sti Hatchback which has been constructed using many of the high-performance upgrades available from the forthcoming Pro-R High Performance range, which will be rolled out to selected Subaru franchised dealers throughout the season. The range includes suspension, braking, induction and exhaust upgrades, all of which can be fitted by end-users, allowing them to improve and enhance their car using manufacturer-approved parts.
'I can't think of a better way to show what the car and these Pro-R parts are capable of.' explained Mathers at the car's launch. 'They have been through extensive pre-range testing already, but real enthusiasts know that the track is the only place to prove that something really works. It's our first season, and the car has been built to a 'realistic' spec for our inaugural outings, so we're not looking to take any scalps in our first few meetings, simply get our head around the format, do some testing, develop the car and showcase the new Pro-R range.'
As one of the leading lights in Subaru tuning, Crossroads Garage have forged a unique position within the Subaru dealer network, by creating numerous dealer 'specials' and many bespoke customer cars. With this extensive knowledge of the Subaru tuning market, Jon Mather's capable wheelmanship and the support of the Pro-R range, it looks like Subaru enthusiasts finally have an officially backed car to cheer on at the track once again.
For more details on the Pro-R range, visit pro-r.co.uk.
For more details on Crossroads Garage, visit subaruvehicles.co.uk.