The price is right for Dalginch buyers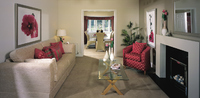 Miller Homes has boosted the choice for homebuyers at Dalginch with a new collection of three-bedroom properties; and there is even more good news for purchasers at the popular development in the village of Markinch, where starting prices are now more affordable than ever.
Situated on Sappi Road in the heart of Markinch, prices at Dalginch now start from just £163,000 for the three-bedroom Irvine mid-terrace. A range of four-bedroom family homes are also available priced from £199,000, with five bedroom homes currently available from £289,000.
Anne Marie Britton, sales director for Miller Homes Scotland East, said: "Following the release of the three-bedroom homes at Dalginch, starting prices at the development are now lower than ever. Potential purchasers at Dalginch can now get on or move up the property ladder at this development from just £163,000. As such, Miller Homes has succeeded in putting homeownership within reach of a wider group of prospective purchasers in and around Fife."
The three bedroom mid-terrace Irvine is ideally suited to a whole host of lifestyles, with the flexible layout perfect for the needs of first time buyers or those looking for high quality home to accommodate a growing family.
The property has an integral garage and the downstairs space includes French doors to the rear of the property, opening up an area that is perfect for summer entertaining and outdoor living. The property also benefits from an open plan kitchen/ dining area which would quickly become the hub of the home. Upstairs there is a family bathroom and three-bedrooms, with ensuite facilities to the master bedroom.
With prices starting from £163,000, budget-conscious purchasers can now secure a new home at Dalginch with a mortgage of just £122,250 now if they are eligible for MiWay – Miller Homes' popular shared equity initiative. Those who take advantage of the scheme simply have to arrange their own finance for 75 per cent of the purchase price, while Miller Homes will provide a loan of up to 25 per cent for the rest (or which ever amount you qualify for). With MiWay, buyers can still own 100 per cent of their home from day one.
For existing homeowners who are struggling to sell their home, Miller has recently re-launched its MiSwap* incentive, which takes the stress out of upsizing or downsizing to a new home. Those who take advantage of this unique scheme can swap their current property for one of Miller's selected plots, even if there is no difference between the values of the two. This marks a radical departure from traditional part exchanges which usually require a homeowner to purchase a property worth at least 30 per cent more than their existing home to qualify.
Anne Marie continued: "Miller Homes understands the importance of providing support and assistance for today's homebuyers. While competitive pricing is clearly key, we have also put a raft of incentives in place to help purchasers secure their dream home. I would therefore urge buyers to visit Dalginch and speak to our experienced sales advisors about how we can help to get them moving. We expect to see a high level of pent up demand for the three bedroom properties, so it important to act quickly to avoid disappointment."
Miller Homes has an extensive portfolio of developments across Fife with a total of five developments providing an array of choice for homebuyers. For further information on Dalginch, visit the marketing suite, open Thursday to Monday from 11am until 6pm.