Design students wrap it up on £20,000 Audi A1 canvas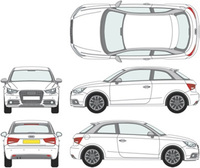 EcoForecourt.com, the first online marketplace to specialise in the listing of eco cars has announced a nation-wide competition for student designers to create a car wrap for a top of the range Audi A1.
The competition is being offered to anyone with a design background but has a strong focus toward students, aside from the £250 prize money the competition gives budding designers the opportunity to gain experience in working with a company at the forefront of the exploding future car market and a brilliant avenue to expose their work.
EcoForecourt is working in conjunction with Audi UK to gain exposure on the car and is launching the winning wrap and car at the 13th annual Gumball 3000 Rally starting in central London 26th May. In true Gumball style the event will include international press coverage and expected celebrity attendance from the likes of rap superstar Eve, David 'The Hoff' Hasselhoff, David Guetta and Xzibit.
EcoForecourt opted for the Audi A1 after testing a wide range of eco vehicles, including BMW's Mini Cooper, Fiat's super low CO2 500 twin air and Honda's sports hybrid, the CRZ.
James Walker, Founder of EcoForecourt said: "The A1 was the last car we tested and after driving the competition we felt it offered the complete package in terms of economy, image and quality and of course the all important fun factor. We also opted for the 7 speed twin clutch gearbox which makes for a super smooth ride".
Since it's launch at the beginning of 2011 EcoForecourt.com has received a fantastic reception from the motor industry and has already amassed hundreds of economical cars from dealers around the country, with a particular focus in and around London.
Mr Walker said: "The company was born out of a strong passion for cars, merging with the crack-down on CO2 emissions and the pressing importance of eco transport in our economy.
"It is important for us to portray greener cars as vehicles that can still be fun and 'cool'.
There is a misconception amongst motorists that greener cars are boring and compromised, we want to change this, and highlight all the great eco cars out there.
Students and designers looking to enter the competition can join the facebook page at facebook.com/ecoforecourt to find out more information and email wrapcomp[at]gmail.com for the information pack.