Audi A1 is named CarBuyer's Best Small Luxury Car 2011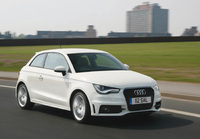 The Audi A1 has earned another notch on its awards post by being named Best Luxury Small Car of 2011 by CarBuyer's expert panel of road testers and reviewers.
CarBuyer praised the A1 for being "unlike any other rival" because it presents "big-car luxury in a pint-sized package. It offers the cheapest route to Audi ownership, yet the driving experience is every bit as rewarding as it is in one of the maker's more upmarket – and expensive – models."
The premium hatch's "range of peppy engines and well-weighted driving controls" earned acclaim for making the A1 "one of the most capable cruisers in this class". "What's more, the Audi A1 feels incredibly well made. Drivers in general tend to agree, with their cars consistently performing well in satisfaction surveys and it has been awarded a maximum five stars for safety in the Euro NCAP test."
The award was presented to Jeremy Hicks, Director of Audi UK, by CarBuyer's Editor Dan Strong on the Audi stand at the Geneva Motor Show.
Prices for the A1 start from £13,420 OTR (1.2 TFSI 86PS SE model) and go to £20,705 OTR for the top of the range 1.4 TFSI 185PS model.