It's bath time at Blythswood Square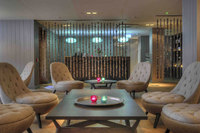 It's bath time at 5-star Blythswood Square with the launch of the luxurious 'Midweek Spa Turus Package' which includes a unique Scottish Seaweed Bath containing fresh hand harvested seaweed from the Hebridean coast, rich in vitamins, minerals and anti cellulite properties.
The Seaweed Bath will speed up the metabolism, cleanse the intestine and help eliminate toxins from the body - perfect for those who suffer from water retention - the seaweed bath will make you feel and look a few pounds lighter and put a Scottish spring in your step!
The Midweek Spa Turus Package includes:
- Luxury overnight accommodation in an individually designed bedroom
- Full use of the spa facilities
- A Seaweed Bath – 30 minutes
- An indulgent and anti-ageing Turus Facial, or a Turus Hot Stone Massage, a deep tissue treatment designed to alleviate aches and pains found deep in the muscles – 60 minutes
- A two course spa lunch
- An Ila Gift Bag
Priced from £330 per room per night, based on two adults sharing a Wee Classic Bedroom – available Monday – Thursday.
The Spa at Blythswood Square covers 10,000 square feet and offers the exclusive Blythswood Thermal Experience – a seven stage journey of alternating temperature experiences to soothe, relax and detoxify the body prior to spa treatments or as a restorative therapy and the UK's first indigenous Scottish treatments designed in conjunction with luxury organic skincare house, ila.
Turus is the Gaelic word for journey and Blythswood Square's Signature Treatments are centred around a 'Turus' (Gaelic word for journey) which combine the natural benefits of Scotland's purest ingredients including Organic Milk Thistle extract, seaweed and sea lavender, with healing therapies to provide a complete body and mind experience.
The Spa also features nine spacious and tranquil treatment rooms including a double suite where guests can enjoy a full range of face, body and holistic treatments, a decadent Dark Pool where guests can relax in warm waters, a Rhassoul, a choice of wet and dry relaxation rooms and a spa lounge where guests can peruse the spa menu and choose from an array of beautifully presented tapas dishes.
Blythswood Square is situated in the heart of Glasgow on one of the city's green spaces. The hotel has 100 bedrooms including four spacious suites and a top floor penthouse. It also has a restaurant, bars, a private screening room and event facilities. Blythswood Square is one of Scotland's most environmentally-friendly hotels through the incorporation of renewable energy technologies to achieve reduced carbon emissions.
For further information visit: blythswoodsquare.com