Make mum's day at Trentham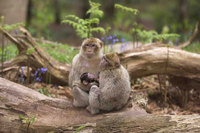 Treat mum to a day to remember this Mother's Day – whether it's a relaxing stroll in some of Britain's finest gardens or adrenaline thrills on an awesome high rope adventure!
And mum's can do all this for free at The Trentham Estate on the edge of Stoke-on-Trent. Offering one of the UK's most diverse days out, Trentham is rolling out the red carpet for Mother's Day this year.
For that special day, there's free admission for all mums accompanied by any paying member of their family to Trentham Gardens plus mums go free at High Ropes Adventure Course Aerial Extreme.
And what's more, Trentham Shopping Village - with shops, cafes and restaurants – also offers the perfect place to find that perfect gift or to treat mum to a well-deserved thank you meal.
The 725-acre site has undergone a massive regeneration programme over the last six years and at its heart is the award winning and lovingly restored Trentham Gardens, complete with an amazing children's adventure play area - including family favourite, the UK's first Barefoot Walk – just right for letting mum relax while the kids play.
But there are plenty more treats in store.
While the new-look gardens have matured into some of the finest in Britain, called by Alan Titchmarsh as one of the "UK's must-see gardens", there are also woodland and lakeside walks.
And for those looking for a little more adrenaline-fuelled fun, mums also go free on Mother's Day to Aerial Extreme, a High Ropes Adventure Course purpose-built for family fun.
Complete an unforgettable day out with a family experience with a difference at the unique Monkey Forest, an exciting walk through 60 acres of beautiful Staffordshire woodland and meadows where 140 monkeys live in total freedom.
You'll even be able to spot some monkey mummies amidst the family groups of Barbary macaques that roam the woodland, and learn all about them.
And if you fancy turning Mum's Day in to a Mum's weekend, there's even a 119-bedroom Premier Inn hotel right on site.
Owned by St. Modwen, the UK's leading regeneration specialist, The Trentham Estate boasts the award-winning Trentham Gardens featuring the UK's first 'barefoot' walk, a great children's adventure play area and maze and a beautiful walk around the mile long lake; the Trentham Garden Centre and Shopping Village, an eclectic mix of shops and eateries; Trentham Monkey Forest – home to 140 endangered Barbary Macaques; Aerial Extreme, an exhilarating high rope adventure course, and a 119 bedroom Premier Inn hotel.
For full details of all Trentham's attractions, events, opening times and prices visit: trentham.co.uk