Chevrolet marks its centenary at Goodwood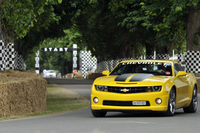 It may be about to become a Centenarian, but Chevrolet shows no signs of old age slowing it down! The iconic American brand returns to the Goodwood Festival of Speed in 2011 with a larger stand to mark is 100th birthday – and a whole host of treats for the visiting public.
Alongside the marque's new 2011 models, the Orlando, New Captiva and Cruze 5-dr, Chevrolet will also be showcasing a number of icons, both new and old.
The range-extending electric Volt, 2011 USA Car of the Year, will be making its UK debut at the festival, alongside the Camaro and the Corvette – Chevrolet's two brawny performance icons.
The cars will be displayed against a fascinating backdrop – a journey through Chevrolet's history in the form of a road trip, with a distinct Americana theme. Iconic models from the company's past will also star at the festival.
Bringing the story full circle, Chevrolet's 2010 British Touring Car Driver's Championship winning team will also feature as part of the event – so expect to see at least one of the BTCC Cruzes attacking the hill in anger.
Chevrolet UK Managing Director, Mark Terry, said: "What better way could there be to celebrate our brand's centenary than to do so at the world's finest celebration of motoring? The Goodwood Festival of Speed is as much of an icon as Chevrolet itself, and we're proud to be such a significant part of this year's event."
The Festival of Speed kicks off this year on Thursday June 30th with the Moving Motor Show, where guests can drive the hill themselves, and runs until Sunday July 3rd.
For more information on the festival visit goodwood.co.uk, or for more on Chevrolet and the stunning new models in its line-up, go to chevrolet.co.uk.