Caterham Academy teams up with Autosport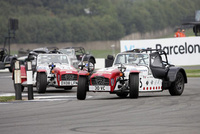 The UK's premier series for novice racing drivers, the Caterham Academy, will be backed by the leading weekly motor racing magazine, Autosport, for 2011.
Autosport, which has a weekly circulation of more than 31,000 readers, and a huge following on its acclaimed website, Autosport.com, has long been acknowledged as the 'Bible' for British motorsport fans.
The Caterham Academy is recognised as being the best value route into motorsport for rookie drivers and has created some 800 brand new racing drivers since its inception in 1995.
The affiliation with Haymarket Media Group's Autosport magazine means readers will be kept abreast of series developments via race reports and features in print and online. Additionally, Autosport news editor, Glenn Freeman, will take part in the series to gain hands-on experience of the world of Caterham racing.
For a package price of £19,450, Caterham's unique series helps participants through the process of gaining their race licence, tutors them in car set-up and racecraft and takes them through their first season of competition.
The Autosport Caterham Academy will strap rookie racers into the seat of a legendary Caterham Seven – its underpinnings are identical in specification to the popular, Ford 1.6 powered Roadsport 125 – a car capable of accelerating from 0-60mph in just 5.9 seconds.
Many Academy alumni have risen through the Caterham racing ladder to GT and single-seater championships and beyond.
Autosport editor, Andy van de Burgt, said: "The Caterham Seven is one of the best-known racing cars in the world and boasts legendary status in racing circles. Anybody who's had the pleasure to drive one can attest to its glowing performance attributes.
"If it weren't for series like the Academy, motorsport in the UK would not have the same vibrant appeal that it enjoys today so we are delighted to back the 2011 series."
Caterham Cars Motorsport Manager, Simon Lambert, added: "Experiencing a Caterham on the race track is a fantastic thrill and we're delighted Autopsort is taking part and backing the series this year. It perennially sells out by virtue of the extremely close fought racing it produces and the renowned Caterham support structure."
For more information, visit caterham.co.uk.