Audi A1 wins Best Small Hatchback in Parkers New Car Awards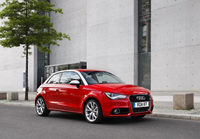 The Audi A1 can now add the Best Small Hatchback Award from leading car buying web site parkers.co.uk to the slew of prestigious accolades it has already earned in 2011.
Parkers' New Car Awards are judged by the results of the 'cost of motoring tool', which visitors to the site can use to calculate the costs of buying and running a new or used car, taking in to account all of the costs such as servicing, showroom tax, fuel consumption and depreciation.
Commenting on the award, Parkers Editor Kieren Puffett explained: 'The Audi A1 1.6 TDI SE brings big premium brand values at a price many car buyers can afford. The A1 is extremely well made and is a car that exudes classy sophistication.
"In terms of delivering 'bang' for your buck, the A1 comes with several efficient engines including the very frugal 1.6 TDI. Thanks to its official average fuel consumption of 70mpg and low CO2 emissions, road tax costs just £20 a year. Throw in low insurance costs and competitive servicing prices, and as an overall package, the Audi A1 1.6 TDI SE is the small hatchback that makes the car buyer's cash go the furthest."
Jeremy Hicks, Director of Audi UK, acknowledged this latest award by saying: "This is already the A1's fourth award of 2011, and it's one we're very proud of. The quality and desirability of the A1 TDI has already been well documented, but the Parkers cost of motoring tool highlights the fact that it's an attractive ownership proposition on every level - it proves that the figures also stack up in its favour."
Prices for the A1 start from £13,420 OTR (1.2 TFSI 86PS SE model) and go to £20,705 OTR for the top of the range 1.4 TFSI 185PS.