Continued success for Maruti Suzuki India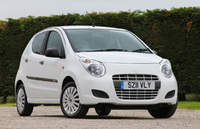 Suzuki has announced that car production at its Indian subsidiary, Maruti Suzuki India, has recently passed the 10 million units milestone, 27 years and three months after production began.
Maruti Udyog Limited, which was formed as a state enterprise in 1981, signed a car-production agreement with Suzuki in 1982. The first resulting model, the Maruti 800, reached the Indian market in 1983 when the passenger car market was just 70,000 units.
The company, now named Maruti Suzuki India, has since produced and sold models such as the Omni (known in Japan as Every), Gypsy (known in other markets as Jimny), Wagon R, Alto, Swift, SX4, A-star (Alto) and Ritz (known in Europe as Splash) in line with improving Indian road conditions and consumer demand.
Maruti Suzuki India has plants in Gurgaon and Manesar (both near the capital, New Delhi), which have combined annual production capacity of 1.2 million units. In line with rapid market growth, the company is building two more plants in Manesar. The new facilities are scheduled to be completed in 2012 and 2013 and will each be able to produce about 250,000 units per year.
Maruti Suzuki India plans to have maximum production capacity of about 1.7 million units per year in 2013. Current domestic market share for passenger cars is 50.14 per cent and in February 2011 Maruti Suzuki sold its highest volume of cars at 111,645 units (including 10,100 for export) – a 15.5 per cent improvement over the same period in 2010.
Suzuki has a vast dealer network to support this volume with over 900 new car sales outlets as well as 2,900 service centres which have the capacity to maintain up to 1,000,000 cars per month. Some of the larger aftersales centres can service up to 250 cars per day in their 50 bay workshops; the longer term plan is for Maruti Suzuki to have a service workshop every 25km.