New contract hire programme from Suzuki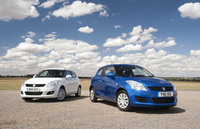 Suzuki has announced a significant enhancement to its Corporate Sales business with the launch of Suzuki Contract Hire. The new scheme is in addition to Suzuki's fleet and business user programme and enables all 150 Suzuki main dealers to provide existing and prospective fleet, business and professional customers with Contract Hire quotations that can be tailored to their individual requirements.
Rental contracts are available either with or without maintenance and are extremely competitive as they are based on the same supply terms available from Suzuki to its leasing company customers.
If the 'with maintenance' package is the preferred option, Suzuki Contract Hire provides an impressive list of benefits including:
All routine servicing and mechanical repairs
Replacement Batteries and Exhaust systems
A 'no quibble' tyre replacement policy (subject to normal exclusion clauses)
Full breakdown assistance is also include with this package; run by the AA, its Fleetwide 3 scheme covers roadside assistance, home start; relay / relay plus and full European cover, (subject to terms and conditions from Suzuki Fleet services).
Typical rentals for a three year, 30,000 mile without maintenance contract are £128 for an Alto SZ3; £180 for a Swift 1.2-litre SZ3 5 Door, £205 for a Jimny SZ3 compact 4X4 and £246 for a Grand Vitara SZ3 1.6-litre 3 Door 4X4.
Ian Price, General Sales Manager for Suzuki GB, comments: "Suzuki is an established brand in the UK offering a wide range of fun to drive and fuel efficient cars; the launch of the new scheme allows us to reach even more customers than before, further developing our presence in the important Fleet and Business sectors."