Asda local hero hits the big time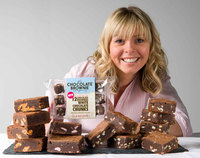 Vicky Critcher and her Chocolate Brownie Company are the pride of Wales in the month of St David's Day, following the news that Vicky and her deliciously moreish chocolate treats are soon to be stocked in her local Asda stores thanks to a competition in the monthly magazine, BBC Good Food.
Asda launched the nationwide search for a new local hero as part of its local sourcing initiative; the supermarket has been stocking good quality, locally sourced food for over eight years from small scale suppliers. Vicky joins the 500 plus suppliers who produce 6,000 local products to be stocked in Asda around the country. Readers of BBC Good Food were asked to nominate their favourite local supplier which they wanted to see stocked in Asda, and the hundreds of nominations were then whittled down to 10 finalists. An expert panel from BBC Good Food and Asda then voted for their favourite finalist with Vicky scooping the honours.
Despite the success of Vicky's business on a small scale, it was clear that work needed to be done to ensure the business was ready to supply a supermarket on a larger scale. Asda's local team estimated that it would take around 18 months for the business to meet regulations in terms of packaging and general logistics before the brownies were ready to be stocked in Asda. However, with their help and Vicky's determination, huge progress was made in developing the business and production was outsourced to a small factory to meet Asda's technical requirements while new professional and stylish packaging was designed. This hard work has resulted in Vicky's products going into store after less than a year, which is a great testament to the skill and hard work of Vicky and Asda's local sourcing team.
The news is made more impressive by the fact that the Chocolate Brownie Company is still in its infancy; Vicky only started the company in April 2010 following years of friends and family saying how impressed they were with her culinary skills. Despite the company's rapid growth, she continues to use a family recipe to make these brownies from deliciously indulgent Belgian chocolate, with no artificial additives or preservatives.
Vicky says of the news: "It's very exciting to have developed my business into a larger scale, yet Asda has ensured I have been able to do this without comprising the homemade quality of the brownies and my family recipe. The task of being stocked in a retailer such as Asda is a dream for small businesses and something I didn't think would ever be possible – the thought of seeing my brownies on a supermarket shelf is very exciting!"
Vicky's chocolate brownies will launch into the Newport, Coryton and Gorseinon stores in South Wales later in the spring. The packaging is recyclable with a shopping list printed on the inside of the label.