Gourmet treats for the perfect family Easter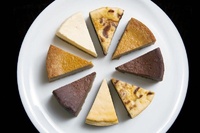 Easter is the perfect occasion to bring your family together and treat them to some of life's little luxuries.
With Cacomo Gourmet - cacomo.co.uk – you can create the perfect family gathering, with inspiring foods for a sumptuous meal; the finest tableware to adorn your dining table; beautiful kitchenware that you will enjoy cooking with and tempting gifts from the confectioner and baker.
Everyone deserves a sweet treat at Easter and Cacomo Gourmet has a mouth-watering range of Easter cupcakes, a rich chocolate torte and luscious, but light Easter Banana Cake. There is also a wide range of speciality biscuits with an assortment of toppings and a selection of tasty cheesecakes, including Manhattan Cheesecake and Raspberry Swirl. Prices start at £29.99.
Cookies, cupcakes and biscuits make delicious gifts and can be delivered directly to the recipient as well as being perfect for you and your family. For a quirky Easter gift, the Chicken's Feet Egg Cups, which come in a set of 4, are a steal at £9.99. Cacomo Gourmet's mouth-watering range of fruit curds, including flavours such as Elizabethan Raspberry and Key Lime make a perfect present for food lovers.
The Rosanna tableware range is a stunning china set inspired by cuisine from around the world and bears an olive branch pattern with scroll wording. The range includes pasta dishes, small dishes for serving oils and olives, an oil jug and a large salad bowl, from £11.99. Cacomo Gourmet also has a gorgeous range of aprons, mitts and kitchen accessories available in different patterns and colours to suit all tastes from Ulster Weavers. With exquisite designs for both adults and children, prices start from £9.50.
If you're spending time in the kitchen over Easter, then make sure you have the finest pots and pans to help create your festive feast. Emile Henry earthenware includes versatile baking and casserole dishes in a range of sizes and colours such as lime, muscade and purple. For serving afternoon tea, use the Emile Henry teapot, which comes in several hues and shades.
Whatever your plans for this Easter, ensure you enjoy inspired family dinners, tempting sweet treats and give gorgeous gifts from start to finish with Cacomo Gourmet - where it gets delicious.