Subaru Impreza shines in MSN Cars handling challenge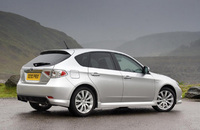 Subaru's All-Wheel Drive Impreza is the hatchback to be in when bad weather strikes, according to handling tests carried out recently by MSN Cars.
The popular automotive website took four rival hatchbacks to the Wet Grip facility at Rockingham Raceway, Northamptonshire, to establish which was the safest to own and drive on slippery and hazardous roads.
The Impreza's rivals in this slippery skid-pan shoot-out were the BMW 1 Series, Honda Civic and Volkswagen Golf. All four were priced under £18,000, but they offered the full range of drivetrain layouts: the BMW was rear-wheel drive, the Honda and Golf were driven by the front wheels, and the Impreza, as with all production Subaru's, boasted All-Wheel Drive.
Three separate tests were undertaken at the saturated, and very slippery, Wet Grip facility: simulated skid recovery from 30mph, wet slalom and standing start on a polished surface. In each of the disciplines the Impreza performed admirably, comfortably recovering the simulated skid and dispatching the slalom course with ease. The standing start test, in particular, highlighted the obvious benefits of All-Wheel Drive, with the Impreza completing the course three seconds faster than the front-drive pairing of the Golf and Civic and a full six seconds ahead of the rear-drive BMW, despite being one of the least powerful vehicles on test.
MSN Cars said of the Impreza: "This is a car you could drive through the middle of a snow blizzard and emerge out the other side. And it doesn't even have fancy traction or stability control like the other cars here, so it relies on the mechanical grip inherent with the AWD system. It held onto the road well and the All-Wheel Drive did the job from an icy standing-start, as well as the other test situations. Best performer on the day on the skid pan."
Marketing Director of Subaru UK, Kenyon Neads, added: "All-Wheel Drive is fundamental to our car-making philosophy. The test carried out by MSN Cars proves that when icy, slippery conditions take over – as they have done on numerous occasions in recent times – there is simply no substitute for the superior mechanical grip offered by our symmetrical All-Wheel drive system.
"For 2011, every vehicle in the Subaru range now offers Vehicle Dynamics Control – our comprehensive Electronic Stability Control system. However, as this test's accompanying video demonstrates, even an All-Wheel Drive Subaru without ESC outperforms rival two-wheel and rear-wheel-drive vehicles in a skid-pan environment."
Subaru's all-wheel-drive range starts at £17,345 for the entry level Impreza 1.5 RC, and rises to £35,795 for the top of the range 3.6R outback cross-over. For more information, visit subaru.co.uk.