Persimmon supports first time buyers in Ashford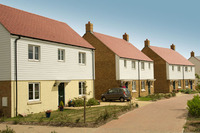 The opinion from some quarters states that it could take 17 years to save enough for a new property deposit , which can equate to tens of thousands of pounds. However, Persimmon Homes South East has hit back to offer first time buyers in the region a much needed lifeline.
The homebuilder is continuing to offer the much-loved 70 per cent shared equity HomeBuy Direct scheme at its Bridgefield development in Ashford, meaning that purchasers only need to raise a small five per cent deposit of £5,530 to achieve the home of their dreams.
"We don't want first time buyers to worry and assume they can't get onto the property ladder because this simply isn't the case," comments Edward Owens, managing director for Persimmon Homes South East. He continues: "We want to help as many people as possible get on to the property ladder and the Government-led shared equity scheme is just one way we are able to assist."
Edward adds: "Many people say that first time buyers should be prepared to be flexible and make compromises to suit their budget. However, at Bridgefield, we have priced our properties in line with first time buyers' budgets to allow them to move with much more financial ease."
The two bedroom homes are priced from just £110,597, while the four bedroom designs are available from as little as £146,997 through HomeBuy Direct.
Edward concludes: "The development is in a fantastic location and homes are finished to a first class specification inside and out so first time buyers certainly won't have to make any compromises here."
The picturesque market town of Ashford puts Bridgefield residents in an ideal location to take advantage of all the local amenities the town has to offer as well as the excellent transport links to the surrounding area.
If you would like to find out more about the properties available and the forthcoming phase, please contact the marketing suite, open daily from 10:00am until 5:00pm.