A right royal welcome for long-awaited Castlemead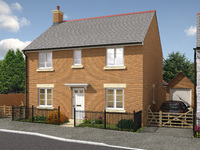 Buyers eagerly awaiting the launch of Barratt's new Castlemead development are in for a treat on Saturday 2 April.

The five star housebuilder is officially launching the exciting new development, situated in a superb location within the beautiful Monmouthshire village of Caerwent. And demand for the selection of two, three and four bedroom houses is expected to be high.

"Already, we are receiving a tremendous level of interest in this wonderful development," said sales director, Adrian Bird. "The team is very much looking forward to welcoming our first visitors. We certainly feel it is worth the wait."

The launch runs from midday and will celebrate the area's history with Roman soldiers, horses and a hog roast.

Located just five miles from the historic and picturesque market town of Chepstow, the village itself is famous for its Roman remains. "Large sections of the old Roman town walls are still in place here in Caerwent," said Adrian. "The ruins of several Roman buildings are still visible – including the foundations of a fourth century Roman temple.

"Some people even believe that Caerwent was the location of the court of King Arthur – popularly known as Camelot."

The area's colourful history – combined with a striking rural backdrop of the Monmouthshire countryside – is providing Barratt with a continuous stream of interest in Castlemead.

"The team is expecting to be very busy here when the doors open on 2 April,'' said Adrian.

"There will be an impressive selection here – with homes that are perfect for a number of different lifestyles. From first time buyers and young professionals to growing families and retired couples, we expect these beautiful houses to have proud new owners in no time."

The development at Castlemead, with homes starting from around £170,000, also offers excellent commuter links to Newport, Cardiff and Bristol.

For more information on current availability, log onto: barratthomes.co.uk.