Bring back family time with Saab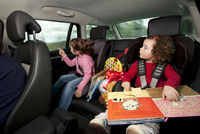 With the bank holiday season quickly approaching, leading car manufacturer Saab is launching a campaign to bring back quality family time in the car.
The campaign comes on the back of a recent poll of UK parents, commissioned by Saab GB, which showed that whilst travelling as a family in the car remains the most popular mode of transport, parents aren't actually taking advantage of this fantastic opportunity to engage with their children.
The poll revealed that 63 per cent of parents say they travel as a family in the UK or Europe by car compared to plane, (25%) and train (9%).
In fact, the survey indicated that more than 40 per cent of parents are planning on taking a long car journey with their family this Easter, but that almost three quarters do not look forward to such journeys, with the top irritation being kids moaning that the journey is taking too long and that they are bored (65%). This is shortly followed by children fighting all of the time (21%) and kids asking for treats throughout the whole journey (18%).
This means that many children are left to entertain themselves in the car, with two thirds playing computer games, playing games on a mobile phone or watching movies to pass the time.
40 per cent of parents even went as far to say that they wouldn't consider going on a long car journey with their children without the aid of technology to keep them entertained, with 62 per cent agreeing that technology has made journeys with children much easier.
Charles Toosey, Managing Director at Saab GB commented: "Technology has undoubtedly made keeping our children entertained in the car a lot easier, however it seems a genuine shame that we are not making more of this time together.
"Families lead such hectic lives these days that travelling in the car is one occasion when we can really spend quality time with each other. We are therefore launching a campaign to encourage parents to embrace this opportunity and look at more interactive ways of keeping their children entertained when in the car.
"Playing car games with our children ticks both of these boxes and if we think back to when we travelled in the car with our parents, such games were a really fun part of the journey. We therefore want to set the challenge to parents this Easter to ditch digital and rediscover the more traditional forms of entertainment when travelling as a family."
Indeed, the research highlighted that 40 per cent of parents would like to spend more time interacting with their children in the car, with the average parent currently spending only one third of their time in the car talking to or playing games with their children. Furthermore, 60 per cent of parents admitted that they don't play any games at all with their kids.
This stands in stark contrast to their memories of childhood car journeys with respondents indicating that almost 50 per cent of this time was spent playing car games with their parents and two thirds rating 'I Spy' as their favourite and most regularly played game.
Other games which ranked in the top 5 of those played most frequently in the car included the Car Colour game (34%), the Alphabet game (22%), 'I went on holiday and I bought...' (19%) and Spot the Animal (11%).
I spy.....Saab searches for the ultimate car game
Toosey added: "The research shows that there are lots of great games that parents can play with their children. So as part of our Bring Back Family Time campaign, and to help parents and children get their imagination into gear, we are launching a competition to find today's best family car game.
"We are looking for suggestions of the most fun and innovative games that can be played whilst on the move and will be rewarding the winning entry with the ultimate fun family experience: a family ticket to Alton Towers including accommodation at the amazing Alton Towers Resort Hotel plus the loan of a Saab 9-3 SportWagon for the weekend."
To enter, simply submit a description of your proposed game (in no more than 150 words) along with your name and contact details to saabpr[at]europe.mccann.com. Alternatively, you can send your submission by post to Saab GB/Bring Back Family Time, Martell House, University Way, Cranfield, Befordshire, MK43 0TR.
Saab offers a fantastic range of vehicles ideal for travelling as a family. The SportWagon is perfectly suited to accommodate families on both short hops and long journeys. With its spacious interior, multi-fold floor and under-floor stowage, transporting an entire family and their luggage is not only incredibly easy but flexible too.
For further details of Saab's range of vehicles, visit media.saab.com.