Headwear designer has arts festival all stitched up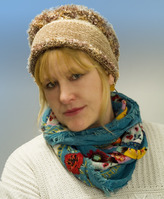 Contemporary knitted headwear designer Jools Elphick is going back to her roots in May when she exhibits her range of 'wearable art' at the Brighton Artists' Open House Festival which takes place every weekend from 7 May to 30 May (Bank Holiday Monday).
Now living in Witney, but originally from Hove, Jools will be showcasing an elaborate and colourful collection of over 30 distinct items. Initially machine knitted using a combination of materials – often including yarns made of chenille, paper, metallics, and appliquéd fabrics and feathers – each piece is then embellished and sculpted, whether it is headwear, collars, gauntlets, jewellery or even her newly introduced leg accessories.
Jools admits that much of her work comes about as a result of experimentation, often with a surprising end result! In fact her first headwear piece was intended as a waistband that didn't turn out quite as expected. Not wanting to waste her efforts, Jools played around with the piece of work and realised it looked great on her head!
She said: "Some of my pieces, particularly my head-dresses, take several weeks to complete and although I start out with a general idea of what I want to achieve, they do tend to evolve as I go along. I'm really looking forward to returning to my former home and meeting up with some of my existing clients there and showing them my latest creations, as well as having the opportunity to introduce myself and my work to some new ones."
Jools, Pictured wearing one of her popular Machat Head Wraps, will be showcasing her work at 51 Wilbury Road, (Venue 6, Hove Arts Trail) one of 17 venues hosting more than 100 artists from a wide range of disciplines. Her work is also available to purchase online at fashionkillerz.com – a website exclusively selling clothing, jewellery and other fashion accessories made by independent designers.