Strong Suzuki finance offers 'spring' into action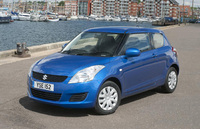 Suzuki has announced even more flexibile ways to buy a Swift with the launch of its low deposit, low monthly payment PCP (Personal Contract Purchase) scheme. Suzuki's low rate (4.9%) PCP is an ideal route for younger buyers or those who simply don't wish to put a large deposit down for a new car.
The PCP is contracted over 43 monthly payments as part of Suzuki's 'affordability' promotion and applies to SZ2 and SZ3 models; taking a Swift SZ2 three door as an example, a deposit of £1,349 is required followed by 43 monthly payments of £145 and a final balloon payment of £3,650 to keep the car.
If Hire Purchase is the preferred route, Suzuki has also extended and improved its zero interest Hire Purchase offer on Swift until the end of June. This offer now requires a down payment of 30 per cent (previously 50 per cent) on SZ2 and SZ3 models. A Swift SZ2 three door can be purchased with a deposit of £3,063 followed by 36 monthly payments of £198. Payments are just £10 per month more for an equivalent five door model.
The latest Splash is also available on Hire Purchase with a lower deposit of 25 per cent (previously 50 per cent); with the down payment at £2,374 for a 1.0-litre SZ3 model, payable over three years at £198 per month. A new, more powerful 1.2-litre engine is now available for Splash which has lower emissions than before at 119g/km and just £30 in annual VED charges.
Suzuki's highly competitive 0% APR three year Hire Purchase finance offers available on SX4 and Grand Vitara models will also continue until the end of June 2011.
For more information on the Suzuki product range, visit suzuki4.co.uk.