Touchwood hosts camera-friendly kids modelling competition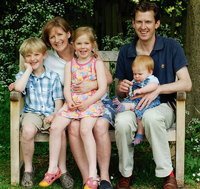 This Easter Touchwood is offering local parents the chance to receive a free professional photograph of their children, as part of its camera-friendly kids modelling competition.
Parents are invited to bring children aged two to 11 along to have their digital portrait taken by a professional photographer between 18th and 22nd April. Sessions will be held from 10am to 5pm and a copy of the photograph will then be emailed to parents as a keepsake.
What's more, all children who smile for the camera will automatically be entered into Touchwood's camera-friendly kids competition, to win the chance to star in the centre's next kidswear photoshoot, which will appear in a local magazine. The winners will also receive a Touchwood gift card each worth £25 to help them show-off their style.
Lucy Burnett, marketing manager at Touchwood, comments: "We have some fantastic kidswear brands in the centre, and we thought who better to show them off than children from the local area. We encourage anyone whose children may be interested in entering, or would simply like to receive a free quality photo of their little one to pop down."
Two winners, a boy and a girl, will be selected from each of the following age categories; two to four, five to eight and nine to eleven.
Photographs will be taken in the former Ten Years of Touchwood unit from Monday 18th to Friday 22nd April, 10am to 5 pm. Touchwood houses some of the best UK and international brands, designer retailers and independent boutique style stores. For further information, visit: touchwoodsolihull.co.uk