Discover the world of 'Amazing Ants' this Easter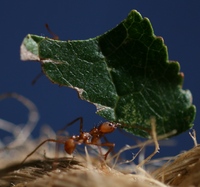 Discover the world of 'Amazing Ants' this Easter, an exciting new display at the Stratford Butterfly Farm. Watch the colony of Leafcutter Ants as they march high above on a rope walkway stretching 25 metres to carry leaves.
Learn some fascinating facts about these amazing insects; for instance, Ants are able to carry loads exceeding 10 times their own body weight. Next to humans, Leafcutter Ants form the largest and most complex animal societies on Earth. All the workers are female; males are only produced when creating new colonies. Male and female flying Ants leave the nest once a year and when the females lose their wings and become Queens, the males die! The Queen is the size of a large Bumble Bee and is enveloped in the Fungus garden where, quite rightly, she is tended to by her tiny workers!

Some Ants hitch a ride back on the leaves being carried, acting as guards against parasitic flies. Ants don't eat the leaves but pass them on to specialist workers who mulch them into the fungus....it is the fungus the Ants feed on. Ants travel by following pheromones; just 1 gram of this pheromone is enough to lay a trail around the world!

Emma Butt, Marketing Manager of the Stratford Butterfly Farm stated "Our Ants display is fascinating and something for everyone to enjoy. There are lots of interesting facts for visitors to learn about and watching them march along the rope walkway is an amazing sight!"
Ticket prices cost £6.25 for adults, £5.75 for seniors/students and £5.25 for children. A family ticket costs £18.50 for 2 adults and 2 children. The Stratford Butterfly Farm will be open from 10:00am – 6:00pm during the Easter holidays.
For more information, visit the official website at: butterflyfarm.co.uk