Orchard Gate lures first time buyer out of rented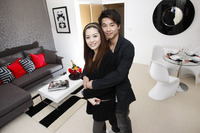 Buying a brand new home before the bricks have even been laid, may sound a bit risky to some, but more and more people are realising the benefits to buying off plan, as Cecilia Meira has come to find out.
The daily commute of living in a rented flat in Eastbourne - while studying at the University of Brighton - was starting to take its toll; Cecilia decided it was time to move on and make the transition into home ownership.
With financial help from her parents, who live abroad, twenty-two year old Cecilia has bought a new three bedroom house at Crest Nicholson's Orchard Gate development in Shoreham-by-Sea, which she intends to move into with her fiancé Matthew Fong (30), who works in Hove, and her Pomeranian dog, Mochi.
"I had a good look at properties around the Brighton 'catchment area' but as soon as I saw the plans for Orchard Gate I fell in love with it," said Cecilia. "It offered me everything that I wanted; a contemporary designed house, with environmentally-friendly features, that's in a great location and close to the beach and park – which are perfect for dog walking. Two big superstores are also within walking distance which is really convenient."
The proximity to Brighton was a key factor in choosing Orchard Gate, Cecilia explained. "I'm currently studying for a Masters in International Event Management so it is important for me to build up a student network, which is hard to do if you're not within easy reach of Brighton. When I finish the course and look to get full time employment, I hope to be able to work in Brighton too, so the right location was very important to me."
While Cecilia will benefit from living at Orchard Gate once the property is complete, her parents, Mr and Mrs Meira (both 46), are planning move in with their daughter when they retire in five years time.
"The main purpose of buying this property is that we want to set up a family house, so that when my parents retire we can reunite and live as a family again. My parents love the fact that Brighton and Hove is a multicultural area, which will help them to integrate into the new environment much easier. They are also looking forward to enjoying their retirement by the sea."
Buying her house off plan has enabled Cecilia to choose the interior style of the property to meet her requirements. "Moving into a new build house really appealed to me; I've been able to make choices such as whether I have built-in wardrobes or not and what kitchen units I like, which means that I can make my mark on the property immediately."
Crest Nicholson's sales advisors at Orchard Gate have worked closely with Cecilia during the purchase. She added: "Tom and Karen have been extremely helpful through the buying process and very responsive to my queries. We should be moving into the house in June so I'm really excited as I can't wait to start putting my stamp on my new home!"
Chris Warner, Sales & Marketing Director at Crest Nicholson South, commented: "Buying off plan presents the perfect opportunity for house hunters to pick the best plot for their brand new home, not to mention the ability to have it styled to their own taste. Cecilia's purchase is a great example of just how appealing, and affordable, Orchard Gate is to first time buyers, particularly for those that are completely priced out of the Brighton property market."
Situated on Upper Shoreham Road, Orchard Gate provides something for everyone – from young professionals and downsizers to families and first time buyers. It comprises a stunning selection of two, three and four bedroom houses.
The development is just a short walk to the town centre, which offers a good range of shops, bars and restaurants, the local beach and Shoreham mainline station – with direct services to London Victoria in just over an hour. Alternatively, Brighton is just under 20 minutes away*.
Prices for a two bedroom, off plan house at Orchard Gate start from £250,000. Three bedroom homes are available from £290,000 and £330,000 for a four bedroom property. First-time buyers can purchase a two bedroom mid terraced for £175,000 and three bedrooms for £203,000 through Crest Nicholson's HomeBuy Direct scheme**. For more information, please visit the Sales and Marketing Suite at Orchard Gate, which is open daily (10am – 5pm).
* Train times are subject to change by National Rail. Please refer to nationalrail.co.uk for the latest journey times.
** HomeBuy Direct is open to households earning a joint income of less than £60,000 a year and offers purchasers the chance own 100% of a new home for as little as 70% of the property's market value. The outstanding amount (up to 30%) is loaned to the purchaser via an 'equity loan', jointly financed by Crest Nicholson and the Government. There is no interest to pay on the HomeBuy Direct loan for the first 5 years, and no additional premium fees or charges. After five years, purchasers will be charged a fixed rate interest of 1.75 per cent, rising annually by the Retail Price Index (RPI) plus 1 per cent. The life of the loan is 25 years (or until the property is sold), after which purchasers will need to repay the loan calculated on the value of the property at the time of repayment.