High speed multi-charger from TomTom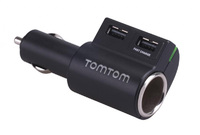 TomTom announces the release of its High Speed Multi-Charger. The first TomTom charging solution that can charge up to three devices in the car at once - and up to four times faster than other chargers.
"The new High Speed Multi-Charger is the first TomTom accessory that enables users to charge their sat nav device and other mobile devices at the same time - such as their phone or a power-hungry portable DVD player - and to charge them faster than with other chargers," says Corinne Vigreux, Managing Director at TomTom. "Sleek, small and boasting TomTom's award-winning design, this is a neat in-car, in-truck, or in-caravan charger".
Drivers can rest assured that all devices will receive full-power charging simultaneously. Where most competitor products state they can charge up to 2.1 amps, that power is split between different ports. Plug in more than one device and full charge is lost. Not so with the High Speed Multi-Charger, whose two dedicated USB ports provide full power at all times.
As well as a 1.2 amp USB charging port for mobile phones or MP3 players, there's a 2.1 amp port to speed-charge high power USB devices such as an iPad or iPhone. This charges up to four times faster - without impacting the other port's charging capability. Plus there's a dedicated port for powering 12V in-car devices like DVD players.
This means that drivers who are always on the road can charge and use all their electronic devices during the trip. And those planning a long drive this holiday season will be able to keep the kids happy with an in-car DVD system and top up their mobile phone charge - all while navigating with their TomTom device.
The new TomTom High Speed Multi-Charger will be available priced £19.99 from Amazon, Dixons, Comet, Halfords and online at tomtom.com.