Land Rover Legacy Project celebrates 71-year history of Solihull factory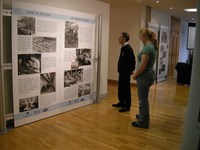 On Wednesday 20 April, invited guests will attend a Reception at the Heritage Motor Centre, Gaydon, near Warwick. The event is to thank all those who contributed to last year's Land Rover Legacy Project and to view the project's travelling exhibition.
The main aim of the Land Rover Legacy Project has been to tell the story of the Lode Lane, Solihull factory, its people and products, from 1940 to the present day. The project was undertaken by the British Motor Industry Heritage Trust (BMIHT), based at the Heritage Motor Centre, Gaydon, with valued support from the Heritage Lottery Fund, Jaguar Land Rover and Solihull Libraries. The project has involved researching the BMIHT archives, cataloguing material and digitising relevant images.
During the year, the project has received enthusiastic support from the community. People attending 'Open Day' events have brought along their photographs and artefacts, shared their memories and provided a valuable insight into the history of the Lode Lane factory. Several people have also taken part in oral history interviews.
Visitors to the Heritage Motor Centre can see the Land Rover Legacy Project exhibition, during All Terrain Fortnight, from 16 April to 1 May. After this date, the exhibition will continue on its tour of Midlands' libraries.
The Heritage Motor Centre is also home to a large display of Rover cars and Land Rover vehicles designed and built at the Solihull factory. Visit heritage-motor-centre.co.uk for more information about the Heritage Motor Centre and Land Rover Legacy Project.