Aston Martin Virage to make UK debut at Salon Privé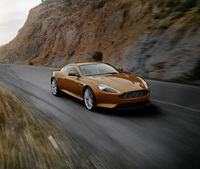 Aston Martin has chosen Salon Privé, London's most exclusive motor show, as the platform for the UK debut of the beautiful new Virage luxury GT sportscar.

Sitting alongside some of the world's most desirable and powerful cars at Salon Privé 2011, the Virage delivers the perfect balance of opposites, sporting yet comfortable, powerful yet refined.

The Virage is the latest example of UK public debuts at Salon Prive. In 2009, Aston Martin chose Salon Privé to present the first public viewing of its £1 million 'One-77'. That same year was also the first public showing of Jaguar's all-new XJ. This year, Salon Privé will also host UK debuts of models from BMW and Land Rover.

David Bagley, Co-Founder of Salon Privé said: "Aston Martin Virage delivers the ideal balance between outright sports car performance and trademark sporting luxury and that makes it perfect for Salon Privé.

"In our sixth year, with a new venue, a larger Concours d'Elegance and a 'Quintessentially English' RM Auction; Salon Prive is coming of age and we're delighted to host Aston Martin's Virage debut this year."

For 2011 Salon Privé moves forward to June (22nd – 24th) placing it right in the middle of the UK summer season events calendar; this teamed with the better location, greater accessibility and ample parking for those wishing to drive this year's event is sure to be better than ever. Tickets start from £175 + VAT and are fully inclusive of Pommery Champagne, Lobster Luncheon and afternoon teas as well as access all areas. Tickets can purchased via the Salon Privé website salonprivelondon.com.