Aston Martin trumps supercars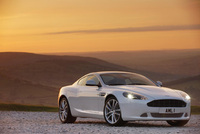 The Aston Martin DB9 has trumped its closest rivals to be voted Britain's favourite supercar, in a survey commissioned by Manheim Auctions. The DB9 finished on pole position, with the Audi R8 and Bugatti Veyron taking second and third place. But whilst it's the most coveted of all the supercars, it's out of reach of most drivers with prices starting from a whopping £122,445 for a brand new one.

The top 10 favourite supercars were:

1. Aston Martin DB9
2. Audi R8
3. Bugatti Veyron
4. Lamborghini Gallardo
5. Mercedes-Benz SLS AMG
6. Porsche 911 GT3 RS
7. Ford Mustang (1960-69)
8. Ferrari Testarossa
9. Dodge Viper
10. Ford GT

"The Aston Martin DB9 has to be one of the most well-known, best-loved supercars ever made. Synonymous with speed, style and glamour and already slipping into the 'iconic' status, it's little wonder it's been voted favourite in our supercar poll," explained Craig Mailey, Marketing Director, Manheim Auctions.

"For those lucky enough to have the budget to afford a supercar, but not a brand new one, we often have second hand Aston Martins and Porsches going under the hammer, especially at our fortnightly prestige auctions at Bruntingthorpe in Leicestershire."

For more information about prestige sales at Manheim Auctions, visit manheimremarketing.co.uk.