How would you furnish your new studion apartment?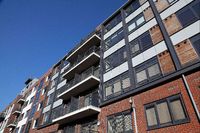 Have you ever considered buying a studio apartment but been put off by the challenge of creating a functional living space?
Genesishomes is offering affordable studio apartments at two of its stunning developments; Factory Quarter in Turnham Green and Kingsway Square in Battersea, which can be adapted in many creative ways to provide an enjoyable, flexible living space.
A well designed studio is much more than an exercise in minimalism or clever furniture arrangement. To be an enjoyable, easy space to make your home, it needs to be practical, attractive and above all, just as easy to live in as a large home. This calls for careful thought, planning and a clear understanding of exactly what you need from the space on a daily basis.
Rachel Best, Design Director at Oasis Interior Design Ltd, who has designed a number of show apartments for Genesishomes, advises: "The art of creating the best use of a studio apartment is to ensure you tailor it to your everyday needs. Purchasing some good storage units which are floor-to-ceiling, wall-to-wall units are ideal as they can accommodate a wide number of items including your TV, books and clothes. If you buy some with sliding doors, you can hide it all away instantly.
"Make sure all the furniture has castors so that they can be easily wheeled around the room, ensuring you can change things around easily. You could also invest in a pull-down bed which can be used for additional storage during the day and neatly folded away when friends and family visit."
In terms of decoration, keep the colours of the walls and furniture neutral. Using glass works well, and white keeps the studio looking light and spacious."
Kingsway Square is a development comprising a mix of new build and restored homes situated around communal landscaped courtyards. Ideally located in the heart of Battersea, a short walk from the expansive 200 acre Battersea Park, Kingsway Square benefits from excellent transport links from nearby Queenstown Road and Battersea Park stations with journey times to Clapham Junction, Victoria and Waterloo in just eight minutes.
Factory Quarter is in a fantastic location for residents to benefit from green, open space and there are a variety of local traders and family businesses in Chiswick and Turnham Green. The local area provides numerous excellent bars, cafes and restaurants while fitness enthusiasts can take advantage of one of the eight nearby health and fitness clubs.
Both developments offer numerous bars, restaurants and shops in their respective locations, providing a fantastic selection of places to meet friends for a glass of wine, or a weekend wonder around the shops or local parks. Safety and security is provided in the form of a concierge and audio entry systems at Kingsway Square and video door entry system at Factory Quarter.
All of the apartments at Kingsway Square and Factory Quarter are available through shared ownership, a scheme which has been designed to help fist-time buyers get on the property ladder. The scheme is open to anyone who does not already own a property and is unable to buy a home on the open market. You can purchase between 25% and 75% and you can increase your share at any time, all the way to 100% and outright ownership.
Your household income must be less than £60,000 per annum and you will need savings of around £3,500 to cover moving and legal costs.
Prices start from £47,500 for a 25% share in a studio apartment based on a full market value of £190,000 at Kingsway Square and from £67,500 for a 25% share in a studio apartment based on a full market value of £270,000 at Factory Quarter. For more information visit: genesishomes.org.uk
Eligibility criteria for Kingsway Square does apply and is currently available to people who live or work as a key worker within the London Borough of Wandsworth. Eligibility criteria for Factory Quarter does apply and is currently available to people who either live or work in the London Borough of Hammersmith & Fulham. Applicants must be registered with the London Borough of Hammersmith & Fulham housing register: lbhf.gov.uk/homebuy