Wandsworth is a winner for key workers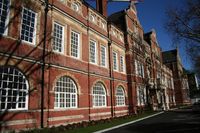 Genesishomes is delighted to offer key workers in Wandsworth the opportunity to purchase at its Kingsway Square development in Battersea. Steeped in history, while offering all of the modern conveniences, opportunities like this do not come around often, so interested purchasers must hurry.
The popular Kingsway Square development comprises a mix of new build and restored homes situated around communal landscaped courtyards. Currently available are a collection of affordable studio apartments which can be adapted in many creative ways to provide an enjoyable, flexible living space. A well designed studio is much more than an exercise in minimalism or clever furniture arrangement. To be an enjoyable, easy space to make your home, it needs to be practical, attractive and above all, just as easy to live in as a large home. This calls for careful thought, planning and a clear understanding of exactly what you need from the space on a daily basis.
Ideally located in the heart of Battersea, a short walk from the expansive 200 acre Battersea Park, Kingsway Square benefits from excellent transport links from nearby Queenstown Road and Battersea Park stations with journey times to Clapham Junction, Victoria and Waterloo in just 8 minutes.
Meanwhile at Queen Mary's Place, Genesishomes are offering key workers in Wandsworth a limited number of apartments. The outdoor spaces of Queen Mary's Place offer a great place to unwind from the stresses of modern living.
The development is set in the historic grounds of Roehampton House, which includes 14 acres of extensive restored gardens, many reinstated from the 19th century. The sunken garden and rose garden complement larger open spaces, creating a tranquil atmosphere, rare in most urban developments.
Both developments offer numerous bars, restaurants and shops in their respective locations, providing a fantastic selection of places to meet friends for a glass of wine, or a weekend wonder around the shops or local parks. Safety and security is provided in the form of a concierge and audio entry systems at Kingsway Square.
All of the apartments at Kingsway Square and Queen Mary's Place are available through shared ownership, a scheme which has been designed to help fist-time buyers get on the property ladder. The scheme is open to anyone who does not already own a property and is unable to buy a home on the open market. You can purchase between 25% and 75% and you can increase your share at any time, all the way to 100% and outright ownership.
Your household income must be less than £60,000 per annum and you will ideally have savings of around £3,500 to cover moving and legal costs.
Prices start from £52,500 for a 25% share in a studio apartment based on a full market value of £210,000 at Kingsway Square. Prices at Queen Mary's Place start from £34,875 for a 25% share, in a resale studio apartment based on a full market value of £139,500. For more information visit: genesishomes.org.uk
Eligibility criteria does apply and both properties are currently available to people who live or work as a key worker within the London Borough of Wandsworth.