Kyoto festival will have extra symbolism this year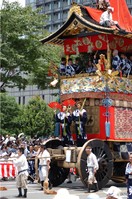 The Gion Matsuri is one of the most famous annual festivals in Japan and lasts the whole of July. It takes place in the ancient city of Kyoto and the highlight is a splendid pageant called the Yoiyama Parade on 17 July.
It will take on an extra symbolism this year as it originated over 1,000 years ago as part of a ritual to appease the gods thought to cause fire, floods and earthquakes.
On the three nights leading up to the large parade many of the streets are for pedestrians only and they become lined with stalls selling traditional food such as yakitori, barbecued chicken skewers, as well as Japanese sweets.
The parades includes a number of floats which are divided into two groups. The Hoko are nine large floats, up to six metres tall, and 23 of the smaller Yama which carry life-sized figures. All floats are decorated with beautiful tapestries from Japan and countries all over the world.
Specialist operator Japan Journeys can offer a wide range of guided tours and independent packages to the country taking in such fascinating events as the Gion Matsuri.
For full details, visit: japanjourneys.co.uk