Persimmon helps Shaftesbury buyers avoid rent race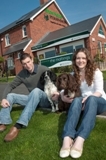 Many young house hunters may find themselves stuck in a vicious circle of renting and not being able to afford to save enough money for a deposit at the same time. However, one couple in Shaftesbury has been able to move into their very own property – without a deposit – thanks to Persimmon Homes' shared equity scheme.
Sarah McDonnell, 25, her partner Simon Spinney, 24, along with their two spaniels – Angus and Tikka - have recently moved to The Maltings – Persimmon Homes' development on Salisbury Road. The couple used to live in work-provided accommodation however, they were keen to set up their first home together but were reluctant to rent.
Sarah, a private chef and owner of the Indulge bakery on Swans Yard in Shaftesbury, takes up the story: "We were both of the impression that renting is 'dead' money and rather than pay a landlord, we were keen to pay a mortgage of our own.
"We chanced upon The Maltings development and after speaking to the sales adviser about our favourite two bedroom property and financial position, she encouraged us to consider the shared equity incentive whereby we'd pay 80 per cent of the market price of the property and the remaining percentage could be deferred for up to ten years."

Simon, who works in agricultural contracting, continues: "As soon as we visited The Maltings, we knew we wanted to make our first home there. The development is within walking distance of Shaftesbury so the bars and restaurants are never far away and also Sarah will be able to cycle into work in the summer, which she really enjoys doing.
"As soon as we were told that deferred percentage acts as a deposit, we realised that we wouldn't need to dip into our savings which was great as we wanted a bit of cash behind us as a bit of security. The shared equity deal has made it possible for us to own our own home with minimum financial outlay – the alternative was renting which is a route we are so grateful we haven't had to go down."
Rob Allen, Persimmon's sales director, adds: "Shared equity is an ideal option for many buyers, like Sarah and Simon, as it means they are able to purchase without having the cost of the whole mortgage, with no fees or monthly rental to pay on the remaining percentage.
"Buyers often find they are in a win-win situation as the 20 per cent of the value of the property, which is deferred, acts as the deposit and because the loan to value ratio is decreased, it enables them to access much cheaper mortgage rates."
The Maltings offers a range of two, three, four and five bedroom homes located in the heart of one of the most desirable areas in North Dorset. Homes available with shared equity are currently priced from just £112,463.

For further information on the shared equity scheme, or for details on the range of properties available at The Maltings, visit the marketing suite open Thursday to Monday from 10am until 5pm.