Affordable rural living in Norfolk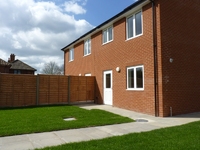 Orbit Homes have launched their latest development, Wisteria, in the village of Scole, South Norfolk. Aspiring buyers are invited to come along to an open evening on Thursday 12th May between 4pm and 7pm to take a first look at the beautiful new homes now available.
Located off the Norwich Road in Scole, Orbit Homes have just two properties available under the HomeBuy Shared Ownership scheme, a government-funded initiative which allows buyers to purchase a share in a property and pay a reduced rent on the remainder. This means that buyers require a smaller mortgage and deposit than they would if they purchased on the open market making HomeBuy Shared Ownership a more affordable way to buy a home.
Orbit Homes have one two bed and one three bed house available at Wisteria, both homes come complete with a fitted kitchen, gas central heating, allocated parking and carpets throughout. Would-be buyers with a local connection to Scole through residence or employment will take priority for these homes and any interested applicants must be registered with South Norfolk Council.
Orbit Homes Sales & Marketing Manager Diane Webster says; 'The lack of affordable housing in rural areas can be a real issue, in many cases people born and raised in villages such as Scole are often forced to move away to find accommodation that they can afford. We hope that our new development Wisteria will help people who may be in this situation remain in a familiar area, close to family and friends'
'We expect the homes at Wisteria to be snapped up quickly and would advise anyone who may be interested to come along to the open evening and speak to one of our helpful members of staff who can tell you all about HomeBuy Shared Ownership.'
Staff from Orbit Homes will be on hand between 4pm and 7pm on Thursday 12th May to show interested buyers around and answer any questions they may have.