Pro-R Time Attack Sti takes 'fastest Subaru' at Oulton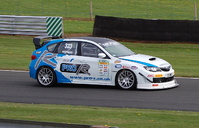 The Pro-R Time Attack Sti, piloted by Cross Road's Dealer Principal, Jon Mathers, put in a superb showing at the inaugural Time Attack round at Oulton Park.
Mathers put on an inspired display of driving from the outset, qualifying in second place straight off the trailer and worrying many other competitors that boasted significantly more power than the Subaru's 'modest' 520 bhp.
In perfect weather conditions, the Pro-R team continued to rack up solid times throughout the day, with the car enjoying faultless reliability throughout, leaving the Cross Roads technicians chance to experiment with set-up and tyre pressures. After not putting a wheel wrong all day, Mathers stopped the clock after claiming the 'Fastest Subaru' trophy of the whole meeting – enough to net a 4th in class overall.
Clearly elated after his first foray into the series, Mathers commented, 'I'm made up for the whole team with this solid result. They have all worked really hard to get us here, with the car being in bits as late as last Thursday. It's still early days for us, and I'm just feeling my way around the car and the many set-up options. Looking at the times though, we're not miles away from the front runners, so I'm confident that we can improve as the season goes on. We have proved however, that the new Pro-R range is more than up to the task. The Alcon brakes in particular were a huge part of our success this weekend.'
The next round of Time Attack will be at Knockhill on the 15th of May. With more testing days on the cards, all are hoping that this solid foundation can be built on at the famous Scottish circuit.
For more details on the Pro-R range, visit pro-r.co.uk.
For more details on the Cross Roads team, visit subaruvehicles.co.uk.