Audi R8 V8 supercharger upgrade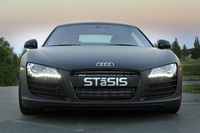 Calling Audi R8 V8 owners – does the propect of an R8 with 120 bhp extra and less weight than the factory V10 version sound appealing? If so, North American Volkswagen performance powerhouse STaSIS Engineering has the answer for you as it unveils the awesome, road-devouring Audi R8 V8 Challenge Extreme Edition upgrade package for the British market.

The STaSIS Engineering Audi R8 V8 Challenge Extreme Edition delivers pure driving adrenaline, combining a sensational 540 bhp supercharger with faster acceleration, improved suspension response, a spine-tingling soundtrack and improved handling abilities.

Following on from the successful UK debut of the R8 V10 STaSIS Challenge Extreme Edition package last month, the V8 version represents the same no-compromise philosophy underpinning the STaSIS brand – a unique blend of cohesive powertrain, chassis and braking upgrades, which elevate the V8 Audi R8's performance to supercar levels of pace. From concept to production each new STaSIS component is rigorously tested to ensure maximum performance and factory levels of reliability.

Available now through award-winning VAG specialist and UK STaSIS distributor APS of Brackley, as well as STaSIS agents across Britain, the key technical features of the sensational STaSIS Engineering Audi R8 V8 Challenge Extreme Edition are as follows:-
Engine - Eaton / Magnusson TVS 1900 supercharger running 7.5 psi of boost, independent charge cooler system to ensure consistent high power output, CNC billet alloy machined intake plenum for durability and strength, high performance STaSIS ECU remap – performance increases to 540 bhp and 435 lb.ft of torque
Exhaust - 3.0 inch TIG welded and individually numbered stainless steel, cross-flow exhaust system with reduced back pressure for improved power and efficiency
Brakes – Alcon 390mm front / 355mm rear with two piece floating discs
Suspension – Lowering springs to improve handling and give a more aggressive appearance while retaining ride quality, matched bump stops, factory 'drive select' feature retained
Wheels - 9.5 x 20 inch ultra-lightweight forged aluminium front, 12 x 20 inch forged aluminium rear with high performance low profile tyres

The STaSIS Audi R8 V8 Challenge Extreme Edition combines a 28% power increase with cohesive dynamic and braking enhancements to deliver exotic performance combined with peace of mind and safety. Everything STaSIS's engineers have learned at the racetrack has been distilled into this R8 V8 upgrade package that's just as happy around town as it is on the open road, where it can accelerate from 0-60 mph in just 3.6 seconds (4.4 stock.)
The STaSIS Challenge Extreme Edition R8 V8 is available now from APS of Brackley and the UK STaSIS sales agent network. In addition, the individual components of the STaSIS Challenge Extreme Edition are also available separately to allow owners to upgrade as funds allow.

To celebrate this fact until May 31st 2011 UK importer APS of Brackley is offering the 540 bhp STaSIS Audi R8 V8 supercharger package at a specially discounted fitting rate, with the additional bonus of an extra 10% discount from any associated STaSIS product purchased at the same time.

For more information on the exciting STaSIS range, visit autops.co.uk.