Acer Aspire One 722 - Sensational multimedia experiences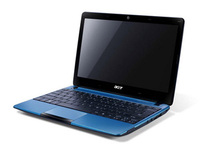 Eye-catching design, sleek style and all you need to enjoy an amazing entertainment experience on the go, including longer battery life. This is the new Aspire One 722 in a nutshell.

The Aspire One 722 was designed from scratch to skillfully combine a tasteful and stylish look with terrific performance enabling users enjoy a sensational visual experience for superb multimedia – movies, games, photos, videos – wherever they go. Equipped with AMD Fusion Accelerated Processing Unit (APU), this netbook delivers a state-of-the-art user experience and amazing HD visuals anytime, anywhere.

With AMD APU Fusion technology, combining AMD C-50 processor and AMD Radeon HD 6250 graphics, supporting the latest graphic standards, real time image processing and edge sharpening, the Aspire One 722 accomplishes any task in a breeze. Now you can experience full high-definition video over the web, up to 3 times faster online video streaming and enjoy HD movies.
What's more, the Aspire One 722 not only is ready to make the most of web browsing and to take advantage of today's more visual digital universe, but it can efficiently perform everyday tasks, such as emailing, chatting, photo viewing, document editing and delivers multitasking capabilities, even with demanding applications. Support for fast DDR3 memory further helps tackling even more demanding tasks.

The Aspire One 722 definitely stands out and not only for performance. Available in two colour options, Aquamarine, Burgundy Red and Diamond Black, it flaunts a gorgeous glossy, glittery cover with a smoothly textured water wave design. The soft matte finish of the palm-rest matches the colour of the cover, for a more pleasant look, and prevents fingerprints and palm smudges. Thin (exactly 1 inch) and compact (only 1.35 kg with 6 cell battery) it easily fits into any handbag or backpack while providing a comfortable viewing thanks to the 11.6" screen.

Typing away on the full-size Acer FineTip keyboard is simply a pleasure and will make more enjoyable being productive on the go. Plus it is complemented by the multi-gesture touchpad, perfect for easy navigation without the need of a mouse: scrolling documents, rotating images, zooming and browsing, all with fingertip convenience.
The new netbook comes with a 29.5 cm (11.6") high-brightness Acer CineCrystal LED-backlit display, with either HD resolution, and 16:9 aspect ratio making it ideal for both entertainment and productivity. And, to provide a seamless experience, it is equipped with an HDMI port to easily connect to HDTVs, widescreen monitors or video-projectors and share Hi-Def video content on a big screen at a larger 1080p resolution.
Multiple connection options, including Wi-Fi, LAN and optional 3G module or Bluetooth, maximise your mobile experience and keep you in touch with all you care about. And, to chat face-to-face, capture photos or video-conference there is the Acer Crystal Eye webcam with Acer Video Conference Manager to enhance image quality and allow for photo, document and screen sharing on the spot!
The Aspire One 722 adopts eco-friendly solutions throughout all steps of the product life cycle: manufacturing, packaging and recycling. Compliancy with Energy Star v5.0 standard as well as RoHS and WEEE EU directives is a guarantee of energy efficiency and proper use and disposal of hazardous substances. Having a LED backlit panel means the netbook is mercury free and ensures 22.2% power savings compared with standard netbook displays.