Starring role for Seat at Disney film premiere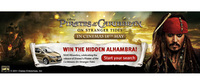 The stylish and practical Alhambra MPV is set for a leading role as a partner of one of the UK's hottest premieres of the year when stars of the Disney movie Pirates of the Caribbean: On Stranger Tides make their red carpet entrance.

The latest chapter of the Pirates of the Caribbean saga receives its glittering UK premiere on Thursday 12 May at Westfield London with appearances by Hollywood legends Johnny Depp (Captain Jack Sparrow), Penélope Cruz (Angelica), Geoffrey Rush (Captain Barbossa) and Ian McShane (Blackbeard).

The Spanish car maker is partnering the latest instalment from Disney's popular Pirates of the Caribbean franchise with a marketing campaign featuring activity spanning the film's UK cinema release plus online, TV and PR activities, and a range of events in SEAT UK dealerships throughout the country.

SEAT UK is using its association with the world-famous film franchise to create even more interest in the already hugely popular new Alhambra. Highlights of the marketing campaign include 'pirate weekends' hosted in dealerships throughout the country that see all qualifying adults who take a test drive within the promotional window having the chance to win a new seven-seat SEAT Alhambra.

There's also an online competition to win a new SEAT at seat-treasurehunt.co.uk

Meanwhile, in support of the film's UK release, SEAT UK is running an extensive national TV campaign which also runs on the Disney XD channel. This is further supported through SEAT's sponsorship of movies on Disney Channel, Disney XD and Disney Junior.

Produced by Jerry Bruckheimer and directed by Rob Marshall, Pirates of the Caribbean: On Stranger Tides captures the fun, adventure and humour that ignited the hit franchise – this time in Disney Digital 3D™.

Johnny Depp returns to his iconic role of Captain Jack Sparrow in an action-packed tale of truth, betrayal, youth and demise. When Jack crosses paths with a woman from his past (Penélope Cruz), he's not sure if it's love — or if she's a ruthless con artist who's using him to find the fabled Fountain of Youth. When she forces him aboard the Queen Anne's Revenge, the ship of the formidable pirate Blackbeard (Ian McShane), Jack finds himself on an unexpected adventure in which he doesn't know who to fear more: Blackbeard or the woman from his past.

The international cast includes franchise veterans Geoffrey Rush as the vengeful Captain Hector Barbossa and Kevin R. McNally as Captain Jack's long-time comrade Joshamee Gibbs, plus Sam Claflin as a stalwart missionary and Astrid Berges-Frisbey as a mysterious mermaid.

SEAT's flexible seven-seat Alhambra MPV is proving a huge hit with drivers here, and has already collected a raft of important awards from influential motoring publications across the UK and continental Europe. Within weeks of going on sale it was named 'Best MPV' by What Car? magazine.

Rob Taylor, National Communications Manager at SEAT UK, said: 'This is a truly amazing franchise to be partnered with.

'Disney is world-renowned for the fabulous entertainment content that they produce and aligning SEAT's family-friendly Alhambra with the Disney brand is, to us, a natural fit with our brand values.'

Pirates of the Caribbean: On Stranger Tides' UK premiere takes place at the Vue Cinema, Westfield London on Thursday 12 May and will be followed by the film's national release in cinemas across the UK on Wednesday 18 May.