Getting started with navigation just got even easier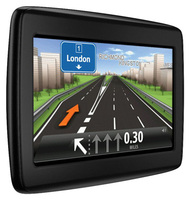 TomTom brings heightened comfort and style to the first-time satnav category with the new TomTom Start 20 series. In this series, TomTom combines an attractive design, larger screen sizes and a new operating system for even smarter navigation.

"New satnav users can benefit from enhanced safety and comfort, all wrapped up in a very stylish, easy-to-use package," says Corinne Vigreux, Managing Director Consumer at TomTom. "No other satnav provider offers such good looks and intelligent features in a range that is predominantly aimed at first-time buyers."

The TomTom Start 20 series gives drivers a bigger and better view of their route. This is thanks to a choice of larger - 4.3" or 5" - screens. They feature a new design that is also safe and practical. The orientation sensor within the devices - coupled with the fully integrated flip screen mount - lets drivers mount their device to their dashboard, automatically rotating the screen 180 degrees. All they need to add is a dashboard mounting disk.

TomTom has added two million kilometres of new roads to the maps in the Start 20 series, including roads in rural areas, enhancing graphics for built-up areas, water features and forests. The maps contain twice as many Points of Interest (POI) as before, and the POIs themselves are richer - offering details such as phone numbers and opening hours. Maps also feature IQ Routes, to give drivers reliable arrival times.

Add Speed Camera warnings to alert drivers to upcoming fixed speed camera locations, and the "Help Me!" emergency menu to give drivers local emergency information quickly, and it's everything any new driver could need to truly get started with navigation.

Pricing
The TomTom Start 20 (UK/Republic of Ireland maps) has a 4.3" screen and costs £129.99.
The TomTom Start 20 Europe has a 4.3" screen and costs £149.99.
The TomTom Start 25 Europe has a 5" screen and costs £169.99.

For more information, visit tomtom.com.