Orbit HomeBuy Agents help buyer find dream home in Bilston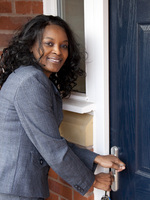 Like so many others Charity Makaya dreamt of one day buying a home of her own but despite a fall in property prices, large deposit requirements from mortgage lenders left her little other option than to rent from a private landlord.
Charity, who lives in Bilston, West Midlands, says; "The high cost of renting privately meant I was finding it difficult to put any money aside and save for a deposit on a home of my own". Charity had resigned herself to renting long term until she attended an open day organised by Orbit HomeBuy Agents where she learnt about the Rent to HomeBuy scheme.
The Rent to HomeBuy scheme allows first time buyers to rent a brand new home at a discounted rate with the opportunity to buy a share in the property in the future. The discounted rent means that residents can save for a deposit whilst living in the home that they eventually hope to buy
Charity says "At first I didn't understand how the scheme worked but Orbit explained it all to me. I wasn't sure if I would qualify but I filled in a simple application form and sent it off to Orbit HomeBuy Agents who confirmed my eligibility. I had seen some new homes being built at The Lunt development which were available through Heantun Housing Association and asked Orbit to pass my application form onto them."
'The Lunt' forms part of the Bilston development project, a £5 million regeneration initiative which will result in 67 new homes along with public open spaces and allotments. Phase 2 of the development is due to complete in August 2011 and will provide a further 16 rent to HomeBuy properties available via Heantun Housing Association. Anne Sheehan, HomeBuy Manager at Heantun Housing says; "The development of the first phase has taken over 6 years to complete and follows extensive community regeneration work led by the local Tenants and Residents Association and Neighbourhood Partnership. High demand for housing has resulted in homes being occupied in a phased completion and this enthusiastic response has extended to Phase two."
Charity is now happily settled in and says; "I'm very happy in my new home, I never thought anyone like me would be able to buy my own place but by paying a reduced rent I can set money aside to eventually buy my home"
Karen Coleman, Head of Orbit HomeBuy Agents says; "The Rent to HomeBuy scheme has proved extremely popular. By renting a home at a discounted rate which is typically 20% less than a private rent would be and with the option to buy at a later date it gives residents time to save for a deposit."
For further information about Rent To Buy or other affordable home ownership initiatives across the Midlands, visit: orbithomebuyagents.co.uk