Magyar Suzuki celebrates its 20th anniversary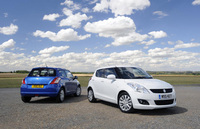 Suzuki's European manufacturing plant, Magyar Suzuki Corporation recently reached an important milestone and celebrates its 20th anniversary. Founded in April 1991, the company has steadily grown and now plays a major role not only in Hungary's automotive market, but also as the sole Suzuki manufacturing subsidiary on the continent serving European markets.

The company was established by major shareholder Suzuki Motor Corporation in 1991 and the first generation Swift was the first model to roll off the production line in Hungary in 1992. This was followed in 2000 by Wagon R+; Ignis in 2003, second generation Swift in 2005, SX4 in 2006, Splash in 2008 and the latest model Swift in June 2010. Magyar Suzuki produces Swift, Splash and SX4 for the UK market.

Since the establishment of Magyar Suzuki Corporation, the original greenfield site at Esztergom has been constantly updated and expanded. Now the facility comprises five shop units (stamping, welding, painting, assembly and bumper). The biggest investment came in the period 2003-2008 under the Suzuki's European Renaissance Program, which targeted heavy expansion of the European network of distributors as well as preparing the company for the production of 300 thousand units.

More than 280 thousand vehicles were produced in 2008 and only the global economic crisis, which seriously hit the automotive industry at the end of 2008, prevented Magyar Suzuki Corporation from achieving this goal.

In 2010, 170 thousand vehicles were produced. All models currently manufactured at Esztergom are built with Euro 5 compliant engines and almost 2 million Suzuki vehicles have been assembled in the Esztergom factory for the European market. Through its export activities Magyar Suzuki Corporation provides cars to European countries but also to Japan, Russia, Ukraine, as well as to the Middle East and some Northern African territories including Morocco and Israel. In addition to the 3,500 jobs at the Suzuki factory, the company provides thousands of jobs for people in Hungary through its network of suppliers and dealers.

Apart from the high levels of quality control employed in Esztergom, Magyar Suzuki aspires to environmentally aware production techniques. The technology in use at the Esztergom factory is in line with ISO 14 001 environmental and ISO 9001 quality assurance standards.