Suzuki Swift DDiS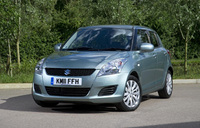 Suzuki has announced the addition of the low emissions 1.3-litre DDiS model to the recently launched Swift range. Available in all 148 Suzuki dealerships from June 1, the Swift DDiS uses a new 75PS 1.3-litre engine, offers low emissions of 109g/km with combined fuel consumption of 67.3mpg, giving an estimated driving range of more than 500 miles.

New Swift DDiS is available for a competitive £12,890 as a five door model with SZ3 grade which includes seven airbags; air conditioning, 16 inch alloy wheels, USB port and heated electric door mirrors as standard equipment.

The Euro 5 emissions turbo charged engine is now even smoother and more responsive than before with maximum torque of 190Nm from just 1,750rpm and 0-62mph in 12.7 seconds. It offers an eight per cent improvement in fuel consumption and produces nine per cent lower tailpipe emissions than the 1.3-litre diesel used in the previous Swift. Emissions of 109g/km mean that Swift DDiS now costs just £20 in annual VED charges.

With the Swift, driving a compact car does not mean settling for less; within its modest dimensions, Suzuki has condensed all the performance, impact safety, handling and other essentials for great enjoyment and satisfaction while easing the environmental burden.

Launched last September, the Swift range with Dual VVT 1.2-litre petrol engine starts from £10,210 for the SZ2 Three door up to £13,525 for the SZ4 Five door with automatic transmission. Emissions for the petrol engine with manual transmission are 116g/km making it one of the cleanest compact superminis on sale.
For more information, visit suzuki.co.uk.